Indians welcome Holi festival in riot of color and water
Millions across India welcomed spring with their annual "festival of colors" yesterday, celebrating by covering each other in water and dazzling paint.
The ancient Hindu festival of Holi, which heralds the end of winter and the victory of good over evil, is marked with a national public holiday and sees revelers pour onto the streets.
"Happy Holi to everyone. May this festival of colors fill your lives with lots of joy," Indian Prime Minister Narendra Modi tweeted on Thursday, the start of the two-day festivities.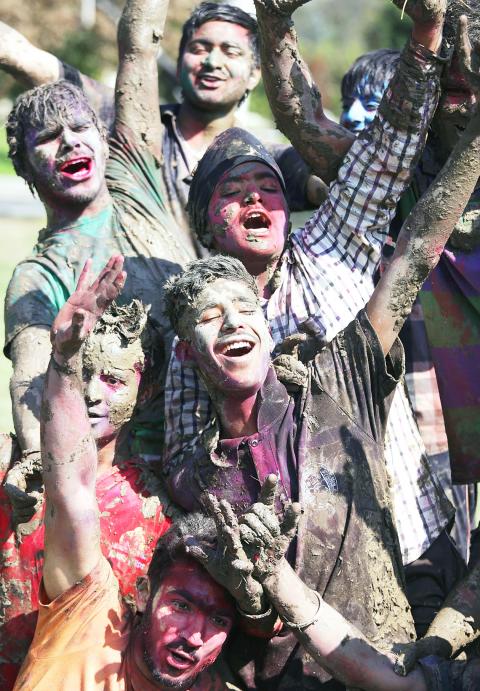 Youngsters smeared with colored powder and mud yesterday celebrate the Holi festival in Amritsar, India.
Photo: EPA
Celebrated mainly in India, Nepal and other countries with large Hindu populations, Holi falls on the last full moon of winter.
In the northern village of Phalen, a Hindu priest ran over a huge fire before cheering crowds to mark the burning of the demon Holika.
Dr Puranbare, a 63-year-old visitor from the western city of Pune, said he had traveled hundreds of kilometers specifically to see the "unique" village ritual.
"It's not otherwise humanly possible for a man to cross such a huge fire," he said.
Elsewhere in the country, people partied with water pistols and colored powder while dancing to drum beats and music.
In New Delhi, police made "elaborate" arrangements to rein in drunk and reckless drivers, arming officers with cameras to film any offenders, the Press Trust of India news agency reported.
Comments will be moderated. Keep comments relevant to the article. Remarks containing abusive and obscene language, personal attacks of any kind or promotion will be removed and the user banned. Final decision will be at the discretion of the Taipei Times.