Myanmar aid group urges truce to evacuate civilians
TRAPPED: The Red Cross' appeal came after an attack that wounded two aid workers, as tens of thousands of people try to flee the fighting in the northern Shan State
Aid workers yesterday called for a ceasefire to allow the evacuation of people trapped around a town at the center of fierce fighting between Myanmar's army and ethnic rebels, after the deaths of two more civilians in an area cloaked by a state of emergency.
Tens of thousands of civilians have already fled the remote and rugged Kokang area of northeastern Shan State over the past 10 days, with at least 30,000 crossing the border into China.
Local aid groups have suspended rescue convoys to and around the flashpoint town of Laukkai, where a series of surprise attacks by ethnic Kokang rebels last week sparked the flare up of violence.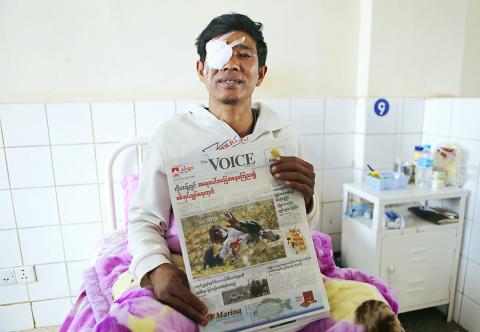 Zaw Min Htike, 37, a volunteer driver for the Myanmar Red Cross who was wounded in a rescue convoy attack on Tuesday, holds a newspaper featuring his picture on the front page, at Lashio General Hospital, Lashio, Myanmar, yesterday.
Photo: EPA
The decision follows an attack on a convoy led by the Myanmar Red Cross that wounded two aid workers on Tuesday.
"We still do not know exactly how many people are still trapped in the Laukkai region... but we evacuated around 30 people from there on Wednesday," a Myanmar Red Cross member said in the Shan town of Lashio, about 140km south of Laukkai.
"We are asking both sides to keep a ceasefire for a few days, so we can help to evacuate people. Currently, even our Red Cross logo cannot help to protect people. It's really sad," the person said.
Over recent days fighting has clustered just south of Laukkai after the town was effectively emptied by the outbreak of conflict last week, which saw nearly 50 Myanmar soldiers killed in a rebel assault.
The army regained the town after helicopter and jet air strikes were followed by bloody street gun battles, which state media said killed dozens of rebels.
Rebels have continued to carry out sporadic ambushes with "small and heavy weapons" on army convoys and camps, but have withdrawn "when counterattacks were launched," state newspaper Global New Light of Myanmar reported yesterday.
"Three tatmadaw [army] personnel died in action and two civilians," the report said, adding that affiliated rebel groups, including the Ta'ang National Liberation Army and the powerful Kachin Independence Army, had also carried out attacks.
Rebels have said they are braced for a major army assault, after Myanmar imposed a state of emergency handing a local military commander sweeping powers.
While the majority of the civilians who have fled have crossed into southwest China, tens of thousands more are believed to have been displaced on the Myanmar side of the border.
Several thousand have streamed into Lashio where they are seeking sanctuary in monasteries.
Comments will be moderated. Keep comments relevant to the article. Remarks containing abusive and obscene language, personal attacks of any kind or promotion will be removed and the user banned. Final decision will be at the discretion of the Taipei Times.