Thousands protest crisis, shortages in Venezuela
Demonstrators against Venezuela's economic crisis — facing sky-high inflation and shortages of food and consumer goods — took to the streets in their thousands on Saturday, banging pots and demanding an end to Venezuelan President Nicolas Maduro's term.
Opposition leaders, fed up with shortages of milk, coffee, sugar, meat, toilet paper, diapers, deodorant and corn meal, and with Maduro's refusal to overhaul the increasingly state-managed economy, say the elected socialist should go.
Ex-lawmaker Maria Corina Machado — who was jailed after deadly riots last year for inciting violence — said Maduro "must step aside now, so the Venezuelan people can stand united again."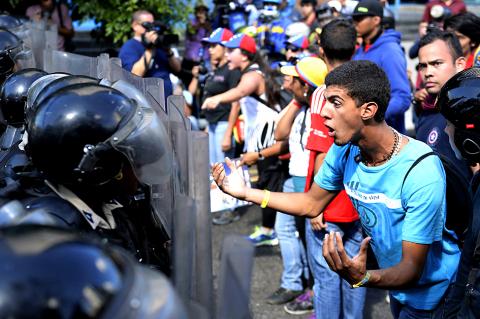 Opponents of Venezuelan President Nicolas Maduro on Saturday demonstrate in front of riot police in Caracas.
Photo: AFP
"The government needs to be changed urgently," Machado said, at what opposition activists called the "March of Empty Pots."
She said that constitutional order — waiting for Maduro to be voted out — "cannot wait," even as some marchers chanted, and others wore tape over their mouths saying "we want to eat."
Many Maduro foes say that the government has co-opted so many sectors of society that they have no real chance at the polls against the political heir of former Venezuelan president Hugo Chavez.
Jesus Torrealba, leader of the activist coalition, said organizers want those who oppose the government to express themselves both at the polls and demonstrating on Venezuela's streets.
"I am here because of all the suffering we are going through," architect Jose Salinas, 46, said. "There are food shortages, shortages even in drugstores, prices have gone up across the board, meat costs twice what it did recently."
Maduro is facing a dismal 22 percent approval rating, and three quarters of the population oppose his government, recent polls show.
Venezuela was already mired in economic woes before oil prices began their recent slide, but the sharp downturn in crude prices has been especially punishing for a country that relies on oil for 96 percent of its foreign currency.
Comments will be moderated. Keep comments relevant to the article. Remarks containing abusive and obscene language, personal attacks of any kind or promotion will be removed and the user banned. Final decision will be at the discretion of the Taipei Times.