Russia pressed to halt separatist push
'PATRIOTS' WAY': Ukrainian President Poroshenko said that the nation would defend itself until it has achieved a 'full victory,' after rockets killed at least 30
World leaders ramped up pressure on Moscow yesterday to stop pro-Kremlin rebels from embarking on a major new offensive in eastern Ukraine after rocket fire killed at least 30 people in a strategic government-held port.
The mayor of Mariupol said 97 people were also wounded by dozens of long-distance rockets that smashed into a packed residential district early in the morning and then again shortly after noon.
"Obviously, everyone in the city is very scared," Eduard, a native of the city of half a million, told reporters.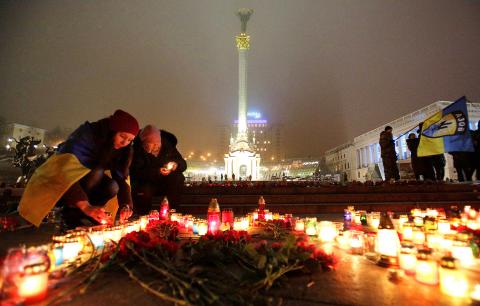 People light candles on Independence Square in Kiev on Saturday in memory of people killed by shelling in Mariupol, Ukraine.
Photo: AFP
A fellow resident named Pavlo described dazed survivors helping wounded people to climb out of the concrete rubble of Soviet-era apartment blocks and navigate streets strewn with shattered glass.
No group has claimed responsibility for the strikes, but the Organisation for Economic Co-operation and Development said the rocket fire came from two locations "controlled by the 'Donetsk People's Republic.'"
The attack on the last Kiev-controlled major city in Ukraine's restive east, which links separatist territory with Russian-occupied Crimea, drew ire from Western leaders, who blame Moscow for stoking the conflict that has claimed more than 5,000 lives.
Ukrainian President Petro Poroshenko, cutting short a trip to Saudi Arabia to chair an emergency National Security and Defense Council meeting in Kiev, vowed to "defend our motherland the way real patriots do — until a full victory."
US Vice President Joe Biden, after a telephone call with Poroshenko, warned that costs would "continue to rise" for Russia, which the White House accuses of sending troops and weapons to help the separatists — a change Moscow has repeatedly denied.
UN Secretary-General Ban Ki-moon also denounced the rebel groups for launching a fresh offensive, in violation of a September peace treaty, "and particularly their provocative statements about claiming further territory."
Leader of the self-proclaimed Donetsk People's Republic Alexander Zakharchenko on Saturday claimed that "today, we launched an offensive against Mariupol," in quotes carried by Russia's RIA Novosti news agency.
Although he later said his forces were still "saving their strength" and had "conducted no active operations in Mariupol," he described the potential capture of the industrial port as "the best tribute possible for all our dead."
The attack drew an angry response from Ukraine's pro-Western government, with Ukrainian Prime Minister Arseniy Yatsenyuk calling on the UN Security Council to censure Russia for allegedly spearheading the militants' advance.
However, an attempt to agree on text, spearheaded by Britain, failed. Western diplomats blamed Russia, which has veto power as a permanent member of the council, for stonewalling, but Russia said the UK's insistence on condemning the rebel forces was the issue.
Western leaders watched with worry as violence once again threatened to spiral out of control in what has already been one of Europe's deadliest and most diplomatically explosive crises since the Cold War.
US Secretary of State John Kerry called on Russia to "end its support for separatists immediately, close the international border with Ukraine and withdraw all weapons, fighters and financial backing."
NATO Secretary-General Jens Stoltenberg also urged Russia to "stop destabilizing Ukraine," while German Minister of Foreign Affairs Frank-Walter Steinmeier said the situation was "very dangerous."
EU High Representative for Foreign Affairs and Security Policy Federica Mogherini said that the latest escalation "would inevitably lead to a further grave deterioration of relations between the EU and Russia."
Latvia, which holds the EU's six-month rotating presidency until July, called for an emergency meeting of the bloc's foreign affairs council this week.
Comments will be moderated. Keep comments relevant to the article. Remarks containing abusive and obscene language, personal attacks of any kind or promotion will be removed and the user banned. Final decision will be at the discretion of the Taipei Times.