King Tutankhamun mask can be restored: specialist
Epoxy used to glue a blue and gold braided beard back on to the burial mask of Egypt's famed King Tutankhamun can be removed and the mask properly restored, a German expert summoned to Cairo to examine it said on Saturday.
Speaking at a packed news conference at Cairo Museum, restoration specialist Christian Eckmann said the beard, which has been detached before from the mask and had likely loosened over the years, was accidentally knocked off in August last year during work on the relic's lighting. The cause of a scratch discovered on the mask had yet to be determined.
"There will be a committee of experts consisting of conservators, archeologists and natural scientists in order to develop a plan for reconservation," he said. "Up till now we found one scratch which is visible, but it cannot be said now whether this scratch is an ancient one, a recent one, or a modern one which just happened right now," he added.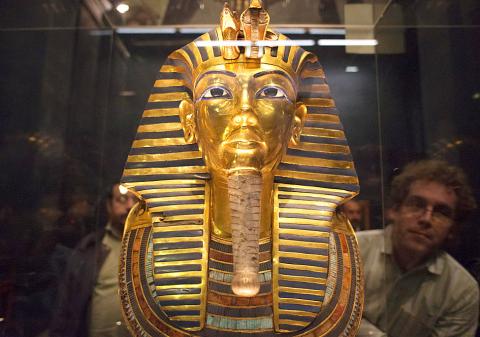 Visitors look at King Tutankhamun's burial mask, which was found to have been damaged and glued back together, at the Cairo Museum on Saturday.
Photo: Reuters
On Wednesday, museum conservators speaking on condition of anonymity for fear of professional reprisals said that the beard had been hastily glued back on with epoxy, a powerful adhesive extremely difficult to remove. The 3,300-year-old mask remains on display, with epoxy filling a small gap between the chin and what is known as a "model beard" commonly worn by kings and gods.
Museum administrators at the news conference declined to comment on which specific type of epoxy was used. Experts said adhesives used in such repairs are chosen for their reversibility, for which epoxy is not renown, although the difficulty of its removal varies according to the type of resin used.
Minister of Antiquities and Heritage Mamdouh Eldamaty, present at the conference, said he was only alerted to the incident two days ago.
The burial mask, discovered by British archeologists in 1922, sparked worldwide interest in archaeology and ancient Egypt when it was unearthed along with Tutankhamun's nearly intact tomb.
It is arguably the best-known piece in the museum, one of the city's main tourist sites, which was built in 1902 and has seen little change since.
Comments will be moderated. Keep comments relevant to the article. Remarks containing abusive and obscene language, personal attacks of any kind or promotion will be removed and the user banned. Final decision will be at the discretion of the Taipei Times.