Obama begins landmark India visit
PRODIGAL POLITICIAN: Indian Prime Minister Narendra Modi, who was an outcast in Washington until last year, invited the president of the US to co-host a radio show
US President Barack Obama yesterday began a landmark visit to India with a bear hug from Indian Prime Minister Narendra Modi, signaling a new warmth in a sometimes strained relationship.
Dressed in a bright saffron shawl, Modi broke with protocol to greet Obama and his wife, Michelle, on the tarmac at the start of an unprecedented second visit to India by a serving US president.
Obama will become the first US president to be chief guest at India's Republic Day parade during his three-day visit, aimed at consolidating what he has called one of the "defining partnerships of the 21st century."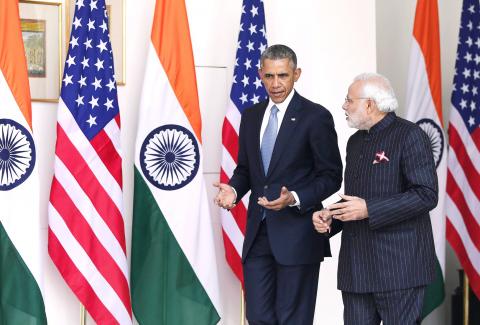 US President Barack Obama, left, and Indian Prime Minister Narendra Modi yesterday walk along a corridor lined with the flags of both nations ahead of their meeting at Hyderabad House in New Delhi. Signaling his determination to take relations with the US to a higher level, Modi broke with protocol to meet and bear-hug Obama as he landed in New Delhi.
Photo: Reuters
Modi was a Washington outcast only a year ago. The visit also caps a remarkable turnaround in relations between the two countries after a diplomatic row in late 2013 that saw the Stars and Stripes torched on the streets of Delhi.
The Indian premier has invited Obama to co-host a radio phone-in show and is reportedly planning a private dinner at his Delhi home for the president.
In an interview with India Today magazine before his arrival, Obama said the two countries were "natural partners."
"When I addressed the Indian Parliament on my last visit [in 2010], I outlined my vision for how we could become global partners meeting global challenges," he said.
"I'd like to think that the stars are aligned to finally realize the vision I outlined," he said.
Both sides are looking for a counter-balance to China, with Modi seen as taking a more assertive line on India's powerful neighbor than the previous government.
The couple was scheduled to visit the Taj Mahal, India's famed monument to love, but their trip has been cut short to allow Obama to travel on to Saudi Arabia and pay his respects to its new ruler, King Salman.
Obama's trip comes just months after Modi's first official visit to the US, and with so little time to lay the groundwork it is expected to be stronger on symbolism than on content.
Nonetheless, an intelligence-sharing deal is in the cards and a decade-old defense cooperation pact is expected to be upgraded.
Climate change — a priority for Obama — and Afghanistan are expected to be discussed, while the two leaders are to make a joint address to company bosses today.
Obama adviser Ben Rhodes said climate change and clean energy were a "concrete priority" and it would be impossible to achieve an international climate agreement without major emitters such as India on board.
Indian broadcaster NDTV said Modi and Obama yesterday were to discuss a possible breakthrough on a stalled nuclear deal when they go for a walk.
The two countries signed the landmark deal giving India access to civilian nuclear technology in 2008, but it has been held up by US concerns over India's strict laws on liability.
India has offered to set up an insurance pool to indemnify companies that build reactors in the country against liability in case of a nuclear accident.
Modi's election in May last year was a potential headache for the US, which had blacklisted the Hindu nationalist for more than a decade after deadly communal riots in Gujarat when he was the state's chief minister.
He was only brought in from the cold in February last year when the US ambassador traveled to Gujarat once it appeared Modi was likely to end the center-left Indian National Congress party's 10-year rule.
The transformation since has been spectacular, with both men heartened by their meeting of minds on a range of issues in Washington in September last year.
"I think Modi surprised everyone by, with very little hesitation, embracing the US," the Carnegie Endowment for International Peace's Milan Vaishnav said.
"To give credit where credit is due, the Obama administration stepped in very quickly after his election to signal that it was willing to do business," he said.
The Indian capital is expected to be under virtual lockdown for today's celebrations.
Obama will watch the parade — a huge spectacle featuring everything from tanks to camels and tribal dancers — from behind a bulletproof glass enclosure with Modi.
Beggars have been cleared from many streets, and traders in Connaught Place, the city's central commercial hub, said they had been told to shut down during the US president's visit.
"They won't allow me in here on the 26th," said 16-year-old Amit Kumar, who shines shoes on the pavement. "They don't want any unwanted people on the streets."
Comments will be moderated. Keep comments relevant to the article. Remarks containing abusive and obscene language, personal attacks of any kind or promotion will be removed and the user banned. Final decision will be at the discretion of the Taipei Times.