Croatia elects first female president
RUNOFF WINNER: Opposition leader Kolinda Grabar-Kitarovic called on national unity to tackle the economic crisis as the newest EU member grapples with recession
Opposition leader Kolinda Grabar-Kitarovic was elected Croatia's first female president on Sunday, narrowly winning a tight runoff vote with a pledge to kickstart the EU country's ailing economy.
Grabar-Kitarovic, an ex-foreign minister and former NATO official, won 50.4 percent of the vote, according to results based on more than 99 percent of the ballots cast. Her rival, center-left Croatian President Ivo Josipovic, garnered 49.6 percent of the vote, results released by the electoral commission showed.
"Grabar-Kitarovic won in a democratic battle and I congratulate her," Josipovic, 57, told supporters at his Zagreb headquarters.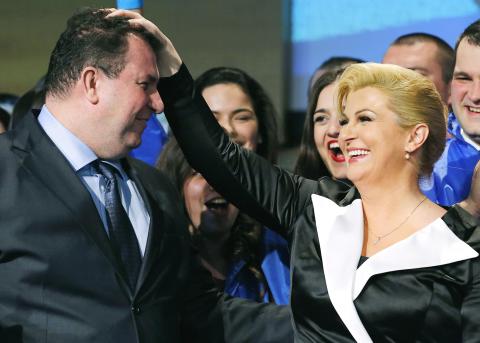 Opposition leader Kolinda Grabar-Kitarovic on Sunday celebrates her victory in Croatia's presidential run-off with her husband, Jakov Kitarovic, on the stage at her campaign headquarters in Zagreb.
Photo: Reuters
The 46-year-old candidate of the main opposition HDZ party is set to be the first woman to take the helm of the EU's newest member state.
She is also the first female head of state chosen by voters in the largely patriarchal Balkans region since former president Atifete Jahjaga was elected by parliament in 2011.
The election for the mainly ceremonial post was held as Croatia, which became the EU's 28th member in July 2013, grapples with a deep economic crisis.
"I will not let anyone tell me that Croatia will not be prosperous and wealthy," Grabar-Kitarovic told jubilant supporters in the capital, calling for national unity to tackle the economic crisis.
Wearing a black dress with white lapels and clutching her husband's hand, Grabar-Kitarovic smiled as supporters chanted her name in celebration of her victory.
"I urge all of you, including those who voted for others, let's unite for a better life in Croatia... a tough job awaits us," she said.
Grabar-Kitarovic is Croatia's fourth president since its independence from the former Yugoslavia in 1991.
During the campaign, Josipovic, a popular former law professor and classical music composer and member of the Social Democratic Party (SDP) — the main force in the ruling coalition — also pledged to pump new life into the economy.
Observers said the presidential election gave voters a chance to voice their dissatisfaction with the SDP-led government's performance and Josipovic's failure to criticize its economic policies.
Turnout was 58.9 percent — about 12 percent more than in the first round held two weeks ago.
Although presidential powers are limited in Croatia, Sunday's vote was seen as a key test ahead of parliamentary elections later this year in which the HDZ is likely to make significant gains.
The government of Croatian Prime Minister Zoran Milanovic has become increasingly unpopular as the nation struggles to emerge from a six-year recession.
"The recession ... is not only the consequence of the global crisis in 2008. The problems rather are structural and the authorities have not been solving them," analyst Damir Novotny told reporters.
Hopes that entry into the EU would provide an economic boost for the nation of 4.2 million have faded. Croatia's economy remains among the EU bloc's weakest. Unemployment stands at almost 20 percent, rising to 50 percent for the under-25s, and the government forecasts a meager 0.5 percent growth this year.
Analysts said the ruling coalition has failed to reform the huge and inefficient public sector, improve the business climate or attract EU development funds.
During her campaign Grabar-Kitarovic labeled Josipovic the "incapable and cold-hearted government's accomplice" in bringing about economic hardship.
Josipovic countered that his rival would not bring change given that she was a minister in the graft-plagued HDZ government headed by former Croatian prime minister Ivo Sanader — who was tried and jailed for corruption.
However, Srecko Lukac, a voter from Zagreb, said Grabar-Kitarovic has had "an impeccable career."
"She is a woman of the world, educated and certainly a patriot," he said.
Comments will be moderated. Keep comments relevant to the article. Remarks containing abusive and obscene language, personal attacks of any kind or promotion will be removed and the user banned. Final decision will be at the discretion of the Taipei Times.