HK legislator to resign to inspire 'referendum'
A veteran pro-democracy legislator pledged on Friday last week to resign from Hong Kong's Legislative Council, triggering a by-election to allow residents to "vent their anger" at Beijing authorities over proposals on how the territory chooses its next leader.
The issue was at the heart of months of mass protests in Hong Kong, where pro-democracy demonstrators blocked off stretches of main roads to call for what they termed "true" universal suffrage.
Legislative Council member Albert Ho's (何俊仁) announcement that he would resign his seat is the latest show of defiance by Hong Kong's pro-democracy lawmakers, who have vowed to veto any government proposal over how to choose a new leader in 2017.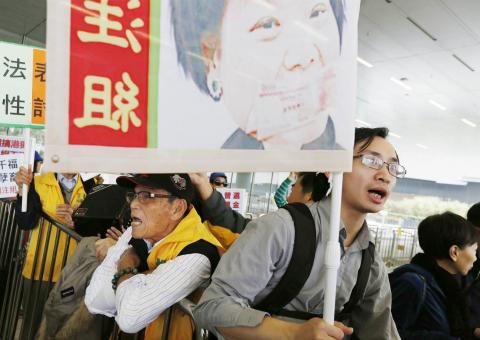 Pro-Beijing protesters mock former pro-democracy Hong Kong legislator Audrey Eu outside the Legislative Council in Hong Kong on Wednesday last week.
Photo: REUTERS
It came as authorities continued to clamp down on activists involved in the mass pro-democracy rallies that began at the end of September last year.
Though Hong Kong is to choose its chief executive through a "one-person, one-vote system," Chinese authorities have said that candidates must be vetted by a nominating committee, which democracy activists and pro-Beijing figures alike say would screen out anyone seen as unacceptable by China
Ho's resignation from his "super seat" — one of five in the legislature — would trigger a by-election in which 5 million people may vote.
"I think I should take every possible opportunity to enable Hong Kong people to vent their anger, their frustrations — and protest against the central government," Ho told reporters.
"I am in a position to do so by resigning from my seat so as to trigger off a territory-wide de facto referendum," he said, adding that he was sure "Hong Kong people would seize this opportunity to fully express their views."
Ho said he would resign after pro-democracy legislators — who hold a critical legislative veto on constitutional amendments — vote down the proposed political reform package. Legislators are expected to vote on the package in the early months of the summer, but experts have questioned the usefulness of Ho's move.
"It [the resignation] would be meaningless, because the bill would have been voted down already," Hong Kong Institute of Education political analyst Sonny Lo (盧兆興) told reporters.
Meanwhile, the founders of the Occupy Central movement on Friday announced that they were summoned by police officers to accept arrest.
"Charges include taking part in, instigating and organizing and facilitating unauthorized assembly," founder and academic Chan Kin-man (陳健民) said on Facebook.
Also on Friday, Hong Kong billionaire Li Ka-shing (李嘉誠) told reporters: "If Hong Kong's political reform does not take a further step, the harm to the territory is impossible to estimate."
Comments will be moderated. Keep comments relevant to the article. Remarks containing abusive and obscene language, personal attacks of any kind or promotion will be removed and the user banned. Final decision will be at the discretion of the Taipei Times.