Sri Lankan president faces poll battle
Sri Lankan President Mahinda Rajapaksa is facing an unprecedented challenge from a newly galvanized opposition when he seeks re-election this week, five years after his crushing military victory over Tamil guerrillas.
South Asia's longest-serving leader had appeared politically invincible after his forces crushed the Tamil Tigers in 2009, ending a decades-long conflict and ushering in a new era of prosperity for the island nation.
Rajapaksa won a landslide election victory in 2010, but critics say the 69-year-old has failed to bring about reconciliation with Sri Lanka's Tamil minority in the years that followed.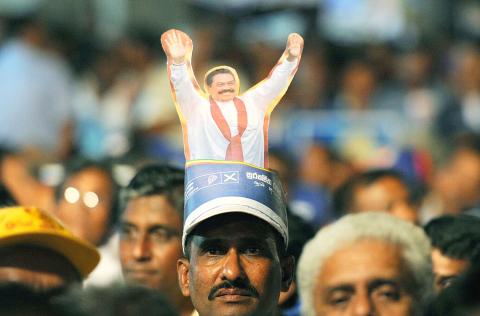 Supporters gather to listen to Sri Lankan President Mahinda Rajapakse during an election rally in the Colombo suburb of Piliyandala, Sri Lanka, on Monday.
Photo: AFP
His second term has been dogged by accusations of corruption, including undermining the independence of the judiciary and lining the pockets of political cronies through lucrative contracts.
The surprise decision of his Sri Lankan Health Minister Maithripala Sirisena to defect from the ruling party and stand as the main opposition candidate has turned what might have been a walk-over into a real contest.
Political commentator Victor Ivan said the low-profile Sirisena had become a symbol of simmering discontent over corruption.
"He [Rajapaksa) failed to ensure reconciliation," Ivan told reporters. "His focus was in mega-highways and ports. That was good for GDP growth, but not enough to heal a society wounded by decades of conflict."
Sri Lanka's economy has grown by an annual average of more than 7 percent since the war ended, partly thanks to hefty investment from close Rajapaksa ally China.
However, the opposition says Chinese contractors have employed few local people and household incomes have not kept pace with national growth rates.
Opposition parties, including the main Tamil party, have rallied behind Sirisena, a 63-year-old farmer-turned-politician, who is from the majority Sinhalese community.
While he still has support among Sinhalese voters, Rajapaksa is widely detested by members of the country's biggest minority, who account for 13 percent of its 15 million people and usually vote as a bloc.
The president has taken drastic measures to shore up his support, slashing fuel prices, cutting water and electricity tariffs, and giving subsidized motorcycles and hefty pay increases to 1.6 million public servants.
Rajapaksa has also promised a judicial inquiry into allegations that his troops killed 40,000 Tamil civilians at the end of the civil war, although he still refuses to cooperate with a UN-mandated investigation.
Last week, he told voters in the Tamil-dominated northern peninsula of Jaffna that he was committed to improving their livelihoods, listing a series of infrastructure projects in the war-ravaged region.
Describing himself as the "known devil," the president urged people not to vote for the "unknown" Sirisena.
"I am the known devil, so please vote for me," Rajapaksa said through a translator.
The Tamils could be king makers if the majority Sinhalese constituency is split down the middle between Rajapaksa and Sirisena.
"We will vote for Sirisena, not because we like him, but because we don't like the president," Colombo-based Tamil company executive Ratnavale Chandrasekaran said.
Rajapaksa called snap elections two years ahead of schedule in the hope of pre-empting an opposition fightback.
Close associates say the timing was decided partly on advice given by his personal astrologer.
The 69-year-old, who has been accused of growing authoritarianism, had removed the two-term limit on the presidency and given himself more powers soon after winning a second term in 2010.
Sirisena's defection was carefully choreographed by Rajapaksa's bete noire, former Sri Lankan president Chandrika Kumaratunga, who returned to politics after a nine-year retirement and has split the ruling party.
A hardline party of Sinhalese Buddhist monks that had cheered Rajapaksa's refusal to bow to an international probe defected to the opposition in November last year, accusing him of unprecedented corruption and nepotism.
The president's eldest brother, Chamal, is speaker of parliament, another brother Basil is economic development minister, while a third, Gotabhaya, serves as the defense secretary.
Other family members dominate state institutions and government-owned companies, with the Rajapaksa tentacles extending even to sporting bodies.
Rajapaksa himself holds a host of ministerial portfolios, including finance, ports and highways.
The pro-government media are predicting a close fight, while foreign diplomats in Colombo say they sense a shift in favor of the opposition.
Last week, one of Sirisena's top supporters accused the government of deploying thousands of troops to Tamil-majority areas as part of a strategy to intimidate voters against backing Rajapaksa's main challenger.
The military has denied accusations of campaigning for Rajapaksa.
As signs of opposition strength grew, the privately-run Sunday Times newspaper questioned the wisdom of Rajapaksa's decision to call a snap election.
"It was his own calling," the paper said. "President Mahinda Rajapaksa for once goes as the underdog."
Comments will be moderated. Keep comments relevant to the article. Remarks containing abusive and obscene language, personal attacks of any kind or promotion will be removed and the user banned. Final decision will be at the discretion of the Taipei Times.