US unveils federal law enforcement profiling ban
US President Barack Obama's administration issued guidelines on Monday that ban federal law enforcement from profiling on the basis of religion, national origin and other characteristics, protocols the US Department of Justice hopes could be a model for local departments as the nation tackles questions about the role race plays in policing.
The policy, which replaces guidelines established under former US president George W. Bush's administration, is also set to require federal agencies to provide training and to collect data on complaints.
Civil rights advocates said they welcomed the broader protections, but were disappointed that the guidelines would exempt security screening in airports and border checkpoints, and would not be binding on local and state police agencies.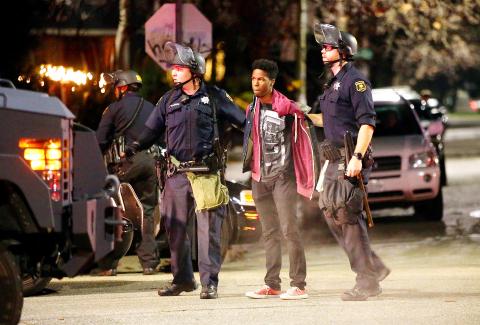 Police officers take a protester into custody during a demonstration over recent grand jury decisions in police-involved deaths in Berkeley, California, on Monday.
Photo: AFP
"It's so loosely drafted that its exceptions risk swallowing any rule and permit some of the worst law enforcement policies and practices that have victimized and alienated American Muslim and other minority communities," American Civil Liberties Union Washington Legislative Office director Laura Murphy said in a statement.
"This guidance is not an adequate response to the crisis of racial profiling in America," she added.
Though the guidelines — five years in the making — were not drafted in response to recent high-profile cases involving the deaths of black individuals at the hands of white police officers, they are nonetheless being released amid an ongoing national conversation about standards for police use of force, racial justice and the treatment of minorities by law enforcement.
"Particularly in light of certain recent incidents we've seen at the local level — and the widespread concerns about trust in the criminal justice process which so many have raised throughout the nation — it's imperative that we take every possible action to institute strong and sound policing practices," said US Attorney General Eric Holder, referring to the August shooting by a white police officer of an unarmed black 18-year-old in Ferguson, Missouri, and the chokehold death weeks earlier of a man in New York City.
Holder, who has made the release of the guidelines a priority before leaving the US Department of Justice next year, called the guidelines a "major and important step forward to ensure effective policing" by federal law enforcement.
The policy extends a ban on routine racial profiling that the department announced in 2003 under then-US attorney general John Ashcroft. Civil rights groups have long said those rules left open too many loopholes by allowing an exemption for national security and by failing to extend the ban to characteristics beyond race and ethnicity.
The new guidelines would end the carve-out on national security investigations and widen the profiling ban to prohibit the practice on the basis of religion, national origin, gender, sexual orientation and gender identity.
The rules cover federal agencies within the department, including the FBI.
They also extend to local and state officers serving on task forces alongside federal agents. Some activities of the US Department of Homeland Security also are covered, such as civil immigration enforcement, but border and airport security screening are exempt along with interdictions at ports of entry.
Comments will be moderated. Keep comments relevant to the article. Remarks containing abusive and obscene language, personal attacks of any kind or promotion will be removed and the user banned. Final decision will be at the discretion of the Taipei Times.