India sisters who beat 'molesters' hailed
Two Indian sisters were showered with praise and cash on Monday after a video of them thrashing three alleged molesters on a moving bus went viral.
Arti and Pooja Kumar, aged 22 and 19 respectively, were harassed by the men on a crowded bus on Friday last week while returning to their home in Rohtak, a Haryana State district.
The footage shows the sisters using their belts and hands to attack the men, who had also been grabbing and shoving other women in the aisle as the other passengers looked on.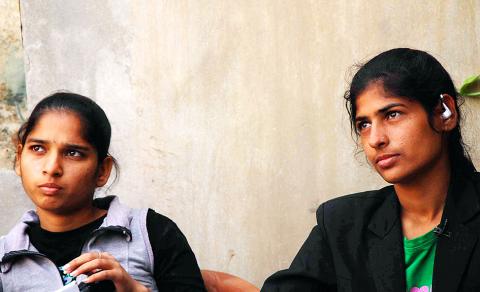 Sisters Pooja, left, and Arti Kumar on Monday talk to reporters at their home in Haryana State, India. They have been hailed for fighting back against three alleged molesters on a bus as bystanders looked on.
Photo: AFP
Police arrested the men on Sunday night after mobile phone footage shot by a pregnant fellow passenger was uploaded on social media and replayed on India's multiple 24-hour news channels.
Many praised the girls' bravery and were scathing of the other passengers, some of whom the video clip shows sniggering as the attacks took place.
"Hats off to #RohtakBravehearts. N I despise such men who just sat and watched everything happening," one user posted on Twitter.
"Braveheart" was the term media gave to the 23-year-old student who died after being gang raped on a bus in New Delhi in 2012.
The horrific attack sparked international outrage, street protests and a round of soul searching in India about its treatment of women.
Some hoped the latest incident would inspire others to rise up against so-called "Eve teasing," a euphemism for harassment that women in India endure.
"Go brave girls! #girlrising and wake up bystanders! Its shameful, the only one who intervened was a pregnant woman!," tweeted actress Freida Pinto, the star of Slumdog Millionaire.
"Bravo! #RohtakBravehearts 4 standing up against eve teasing. Hope you become role models for all girls who want to stand up against #eveteasing," another Tweet said.
Rohtak police spokesman Ved Singh Nain promised a speedy investigation into the incident, after the women said the men started abusing them when they rejected their advances.
"n the bus, they made obscene gestures, touched us and abused us," Pooja told NDTV news channel on Monday.
"We could not take it any more and started beating them. One of the men grabbed my sister's hand and the other held me by the neck. That is when my sister took out her belt and started beating them," she said.
Haryana State Chief Minister ML Khattar announced a cash reward for the women of 31,000 rupees (US$500) each, saying he hoped the incident's publicity would sensitize others to the issue.
"The kind of work that has been done by these two girls is praiseworthy," Khattar told reporters.
The sisters can be seen beating the men up at: youtube.com/watch?v=ZopUkgU7CSw
Comments will be moderated. Keep comments relevant to the article. Remarks containing abusive and obscene language, personal attacks of any kind or promotion will be removed and the user banned. Final decision will be at the discretion of the Taipei Times.