Pro-EU parties narrowly win Moldova polls
WEST BEATS EAST: The results are a rebuff to Moscow, which is tussling with Brussels over Moldova and has vowed to protect its 'citizens' in a pro-Russia breakaway region
Pro-EU parties edged out those backing closer ties with Russia in Sunday's parliamentary elections in the former Soviet republic of Moldova, with the poll taking place against the backdrop of the bloody conflict in Ukraine.
With more than 87.7 percent of the votes counted, three parties backing integration with the EU won about 44 percent of the vote, while pro-Russia groups had about 40 percent.
The narrow victory means parties will face tough negotiations to form a government in the impoverished country that has a breakaway pro-Kremlin region, analysts said.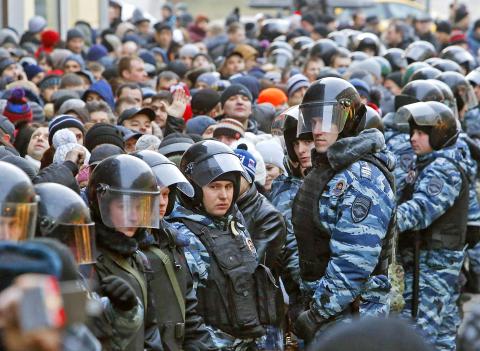 Policemen on Sunday stand guard at a polling station for Moldova's parliamentary elections housed at the country's embassy in Moscow, Russia.
Photo: Reuters
Voters on Sunday cast ballots for a 101-seat parliament to serve a four-year term, with parties needing to win at least 6 percent to gain seats. The poll came as Moscow and Brussels are locked in a tug-of-war over the fate of Moldova, as well as fighting between Kiev and a Russia-backed separatist movement in the east of strongly pro-Western Ukraine.
Moscow does not want to part ways with Moldova, a former Soviet satellite where it has troops stationed in the Russian-speaking separatist region of Transdniestr, while the EU is keen to make the country a symbol of its own "soft power" strength.
In June, Chisinau signed a landmark association treaty with Brussels in the face of bitter opposition in Moscow, which retaliated with an embargo on the import of many Moldovan foods.
Russia in October vowed to protect its citizens in Transdniestr, warning "those who don't think like us" not to meddle in the pro-Moscow breakaway region.
"There is no need to indulge in any illusions about whether Russia will protect its own citizens," Russian Deputy Prime Minister Dmitry Rogozin said. "It unambiguously will — and don't try to test our patience, our strength."
Tensions with Western-leaning Moldova over the fate of the breakaway region have been festering for years, but gained fresh momentum since fighting broke out in eastern Ukraine in April.
Transdniestr is a strip of land bordering Ukraine, which broke away from Moldova after the collapse of the Soviet Union in 1991 and a brief civil war the next year.
Ahead of the vote, Moldovan Prime Minister Iurie Leanca urged citizens to vote for a future in the EU, saying: "Our train is already on the move, but has not reached the point of no return. If we stop on this European path, I can't even imagine when we will get another chance."
As one of Europe's poorest countries, Moldova has struggled to break free from a period of persistent political crises.
The presidents of Poland, Romania and Ukraine and German Chancellor Angela Merkel had backed the pro-EU campaign in a vote that analysts said was a litmus test of the country's aspirations.
"If the pro-European parties win, Moldova's course towards European integration could become irreversible," said Arcadie Barbarosie, executive director of the Institute for Public Policy in Chisinau. "If Moldova turns back towards the customs union [with Russia], however, it risks remaining forever in Russia's sphere of influence."
Controversially, the pro-Russian Patria, or Motherland, party was excluded from the vote days before the polls over alleged illegal financing from abroad.
About 78 percent of Moldova's population is ethnic Romanian, while Ukrainians and Russians account for about 14 percent.
Comments will be moderated. Keep comments relevant to the article. Remarks containing abusive and obscene language, personal attacks of any kind or promotion will be removed and the user banned. Final decision will be at the discretion of the Taipei Times.