Angry Mexicans march for missing students
A largely peaceful march by tens of thousands demanding the return of 43 missing students ended in violence, as a small group of masked protesters battled police in Mexico City's main square.
The march late on Thursday sought the return of the students from a rural teachers' college.
Nov. 20 is usually a day reserved for the celebration of Mexico's 1910 to 1917 revolution, but Mexicans were in no mood for celebrations.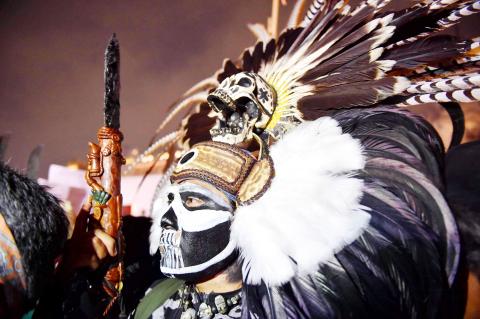 A man dressed in an Aztec costume demonstrates in Mexico City on Thursday against the presumed massacre of 43 students in Guerrero State on Sept. 26.
Photo: AFP
Many of the marchers carried "mourning" flags with Mexico's red and green national colors substituted by black stripes.
"The entire country is outraged," housewife Nora Jaime said.
"It is not just them," she added, referring to the 43 young men who have not been seen since being attacked by police in a southern city on Sept. 26. "There are thousands of disappeared, thousands of clandestine graves, thousands of mothers who don't know where their children are."
The march in Mexico City was largely peaceful, in contrast to recent protests that have ended with the burning of government buildings in Guerrero State, where the students disappeared.
Whenever masked protesters tried to join Thursday's march, demonstrators shouted them down with chants of: "No violence" and "Off with the masks."
The protesters converged on the city's main square, where families of the missing students stood on a platform in front of the National Palace holding posters of their relatives' faces. Amid chants for Mexican President Enrique Pena Nieto to step down, family members repeated that they do not believe the government's account that the youths were killed by a drug gang.
"We're not tired," one man speaking from the platform said. "On the contrary, we are mad with this Mexican government and its entire structure, because it has not done anything but deceive the families."
After most of the protesters left the square, a small group of masked youths began battling police with rocks and sticks. Police responded with fire extinguishers to put out fires set by the youths and to force them off the square.
Police charged across the square to drive the protesters out. At least two news photographers were injured by police, who took two cameras and some lenses from a photographer.
Earlier in the day, about 200 youthful protesters, some with their faces covered by masks or bandannas, clashed with police as they tried to block a main expressway to the international airport.
Protesters hurled rocks, fireworks and gasoline bombs at the police, at least one of whom was hit by the projectiles. Some passengers had to walk to the terminal, but flights were not interrupted and expressways were reopened.
Many average people, outraged by the disappearance of the students, turned out for the march, despite cool weather and some light rain.
Maria Antonieta Lugo was part of a group of housewives who joined the march "because we have children of the same age" as the missing students, who ranged from their teens to their 20s.
"This could happen to our children as well," she said.
Comments will be moderated. Keep comments relevant to the article. Remarks containing abusive and obscene language, personal attacks of any kind or promotion will be removed and the user banned. Final decision will be at the discretion of the Taipei Times.