Foreign minister faults Israeli right for Jerusalem tensions
TINDERBOX: Dual vehicle attacks led to police adding barriers to mass transit sites, while Israel's foreign minister said 'right-wing' politicians sought attention
Israeli Foreign Minister Avigdor Lieberman has berated right-wing politicians for exploiting tensions in Jerusalem, telling Israel Radio on Thursday that some Israeli politicians were "seeking cheap headlines."
Right-wing members of Israeli Prime Minister Benjamin Netanyahu's Likud Party and other lawmakers seen as hard-line in Israel are pushing the government to remove restrictions preventing Jews from praying at the Jerusalem holy site at the center of the tensions, known to Jews as the Temple Mount and to Muslims as the Noble Sanctuary.
On Wednesday, two incidents involving vehicles occurred. A Hamas militant slammed a minivan into a crowd waiting for a train in Jerusalem, killing one person and wounding 13, before being shot dead before a Palestinian slammed his car into pedestrians the southern West Bank in the second such attack in a fortnight.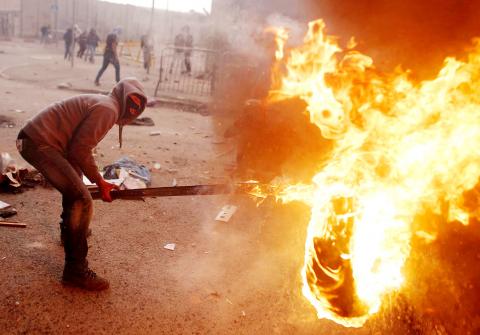 A Palestinian protester picks up a burning tyre during clashes with Israeli security forces in the Palestinian refugee camp of Shuafat in east Jerusalem, on Wednesday, after a Palestinian rammed his vehicle into a crowd of pedestrians in Jerusalem.
Photo: AFP
Police described the incident, which took place on the line between west Jerusalem and the city's annexed Arab east, as a "hit-and-run terror attack."
Hours later, in the occupied West Bank, the army reported the second car assault, in which three soldiers were run down as they stood guard outside El-Arub Palestinian refugee camp, south of Bethlehem.
The Jerusalem attack mirrored an incident on the same road on Oct. 22, when a Palestinian rammed his car into a group of pedestrians, killing a young woman and a baby.
Hours after Wednesday's attack, police started installing concrete blocks at light-rail stops, to prevent vehicles from striking passengers, a police statement said.
Israeli police spokeswoman Luba Samri said the driver in the Jerusalem attack had first struck a group of border policemen near their headquarters, before hitting another group of pedestrians.
Shortly after the attack, clashes broke out in both Shuafat refugee camp and Issawiya, also in east Jerusalem, an AFP correspondent reported.
Skirmishes spread across several east Jerusalem hotspots, with police saying riot-control weapons were used against Palestinians who allegedy hurled stones and firecrackers.
US Secretary of State John Kerry condemned the attack as a "terrorist act" that "only raises tensions" in the region.
EU Foreign Affairs and Security Policy Representative Federica Mogherini urged both sides to show restraint and called Wednesday's attack "painful evidence of the need to undertake serious efforts toward a sustainable peace agreement in the Israeli-Palestinian conflict."
The attack was hailed by the militant Hamas movement, which described Akari as a "hero" whose actions were a "natural response" to Israel's actions at the al-Aqsa compound.
Netanyahu accused Palestinian President Mahmoud Abbas of encouraging such attacks by sending condolences to the family of a Palestinian shot dead by police last week over the allged attempted assassination of rabbi Yehuda Glick.
"The hit-and-run attack in Jerusalem is a direct consequence of Abu Mazen's [Abbas'] incitement and that of his partners in Hamas," he said.
Clashes in Jerusalem prompted a furious response from Jordan, which has custodial rights over Muslim holy sites in the city, with Amman recalling its ambassador to Israel "in protest at Israel's escalation."
Comments will be moderated. Keep comments relevant to the article. Remarks containing abusive and obscene language, personal attacks of any kind or promotion will be removed and the user banned. Final decision will be at the discretion of the Taipei Times.