Analysts say HK protests may intensify
ANGER MANAGEMENT: Analysts said that after Beijing won the latest round, Hong Kongers remained angry about the wealth divide, living costs and property prices
China might have won the latest round in its long-running battle with Hong Kong over genuine democracy, but in a city simmering with anger and ingrained with activism the issue is not set to go away soon.
Pro-democracy campaigners had threatened for more than a year to take over the streets of the city's financial district if their demands for full universal suffrage were not met. However, Beijing called their bluff, insisting that the financial hub's next leader be vetted and dealing a major blow to Hong Kong's decades-old democracy movement.
After initially vowing a new "era of civil disobedience," leaders from Occupy Central, the largest grassroots group, backtracked, admitting little can be done to change China's mind — and even hinting that support for their cause was waning.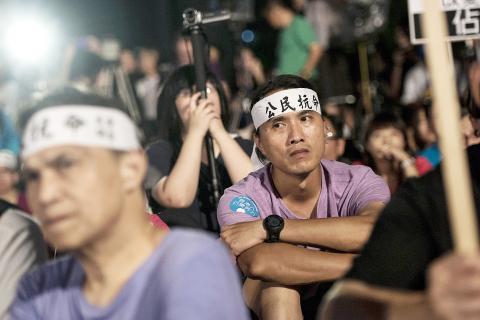 Protesters attend a pro-democracy rally next to the Hong Kong government complex last Sunday.
Photo: AFP
However, while senior officials in Beijing might look with glee at the discord in the ranks of Hong Kong's democracy campaigners, the issues that fuel them — and encourage hundreds of thousands of protesters onto the city streets every year — still remain.
Regardless of whether the city's civil disobedience thrives or fizzles out, China's crucial economic hub still faces a political crisis brought on by deepening social anger, analysts say.
"My prediction is this [social unrest] will get worse because of the latest decision from Beijing," City University of Hong Kong law professor Surya Deva said. "Hong Kong has been experiencing a governance crisis for a while."
Increasing income inequality and the perceived cosiness between city officials and business elites have driven the demand for a more representative and accountable leader, he said, adding that the chief executive has always been viewed as unaccountable.
"Rather, he represents Beijing and the elites, including the business community," Deva said.
Unless Beijing does more to address this anger, analysts warn, the city risks becoming ungovernable, with continued street protests and outraged pro-democracy lawmakers promising to be a permanent thorn in the government's side.
Chinese University of Hong Kong professor Ma Ngok (馬嶽) said the demand for greater democracy was just one manifestation of a much wider anger over inequality and reduced opportunities.
"Economic and social problems discredit the current system in terms of the income disparity. It seems that the government is too pro-business, so that adds to the demand for democracy," Ma said.
The wealth gap in Hong Kong, already one of the world's widest, shows little sign of abating. Anger also bubbles over rising living costs and skyrocketing property prices.
The government last year found that almost 20 percent of residents in the city of over seven million were living in poverty.
Pro-democracy groups recognize this. Knowing they now have little chance of defeating Beijing over universal suffrage, networks like Occupy are changing tactics and settling in for a much longer and protracted fight with the mainland.
Occupy organizers know they tread a difficult path between keeping popular anger simmering and not losing local support through overly confrontational actions in a city where economic stability is a golden calf.
Comments will be moderated. Keep comments relevant to the article. Remarks containing abusive and obscene language, personal attacks of any kind or promotion will be removed and the user banned. Final decision will be at the discretion of the Taipei Times.