Merkel brings up human rights in speech in Beijing
German Chancellor Angela Merkel raised the issue of human rights publicly in China yesterday — unlike many Western visitors — invoking the fall of the Berlin Wall and telling students their country needs "free dialogue."
The German leader, who grew up in the former East Germany, noted in her carefully worded remarks at Tsinghua University in Beijing that China and Germany have a forum to discuss rights.
"To me, this dialogue is very important, because 25 years ago, when the peaceful revolution took place in the former GDR, this finally led to the fall of the Berlin Wall and enabled us to have a free dialogue," she said, referring the German Democratic Republic, East Germany's formal name.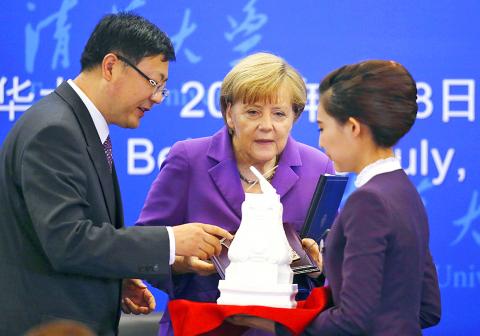 Tsinghua University president Chen Jining, left, presents a souvenir to German Chancellor Angela Merkel, center, after her speech at the university in Beijing yesterday.
Photo: Reuters
"I think it's also important here in China to have such a free dialogue," she said, according to the official English translation of her German-language speech.
Merkel's comments are in contrast to many other Western visitors to China, who have shied away from public comments on human rights as they pursue trade deals with the world's second-largest economy.
The German Chancellor spoke in an auditorium on the Tsinghua campus a little over a month after the 25th anniversary of the 1989 Tiananmen Square Massacre in Beijing, an event Chinese authorities have worked hard to erase from the public memory.
Merkel grew up in communist East Germany, where freedoms were severely curtailed and the state engaged in mass spying on its citizens.
"It's important that citizens can believe in the power of the law and not the law of the powerful," she said. "It's important to have laws on this regard, that function as a guardian of principles. You need on open, pluralistic and free society in order to shape the future successfully."
She is on her seventh visit to China since since coming to power in 2005 and her trip has been largely focused on business issues, with Germany the EU's biggest economy.
On Monday, the two nations inked a series of deals, including agreements on two new Volkswagen factories and the sale of 123 Airbus helicopters.
Merkel angered Beijing in 2007 by meeting Tibet's exiled spiritual leader, the Dalai Lama, whom ruling Chinese Communist Party leaders consider a dangerous separatist.
Any official discussion of human rights on her latest visit was expected to take place behind closed doors, an approach that German officials have argued can be more effective in China than finger-wagging reprimands.
Comments will be moderated. Keep comments relevant to the article. Remarks containing abusive and obscene language, personal attacks of any kind or promotion will be removed and the user banned. Final decision will be at the discretion of the Taipei Times.