Bangladesh ferry toll rises to 45
FATAL ACTIONS: There is evidence that the ship's captain defied storm warnings and the investigation is probing whether there were too many passengers, authorities said
Navy divers have recovered 16 more bodies from the wreckage of a Bangladeshi ferry as the death toll from the disaster rose to 45, with scores more feared drowned, Bangladeshi officials said yesterday.
Two salvage vessels managed to float the sunken ship and brought it closer to the shore, allowing the divers to search inside of the 30m boat three days after it sank following a storm.
"We've concluded our search inside the vessel. Navy divers have scoured every nook and cranny after we lifted the vessel out of water," Bangladeshi water transport authority head Shamsuddoha Khandaker told reporters.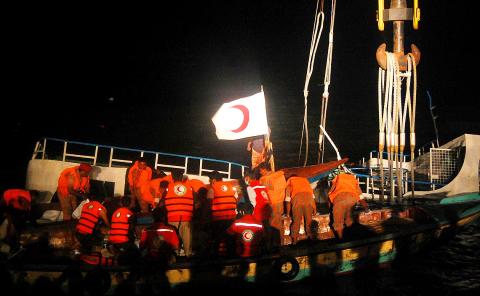 Rescue workers search for bodies inside a sunken ferry on the river Meghna in Munshiganj, Bangladesh, yesterday.
Photo: AFP
"The death toll is now 45. We've searched the vessel and there are fewer chances that any more bodies could be found there," government administrator of the region Saiful Hasan told reporters.
Local police chief Ferdous Ahmed confirmed the figure. Hasan said the search for bodies in the Meghna river, one of the world's widest, would continue as they feared that some bodies could have been washed downstream by strong currents.
Hundreds of distraught relatives gathered by the side of the river for a third day as bodies were brought and laid out for identification. Many have relatives still unaccounted for.
The exact number of passengers was not immediately known as Bangladeshi ferries do not maintain passenger logbooks.
Bangladeshi authorities initially said the ship was carrying up to 350 people when it embarked for a trip to the south, but later cut it down to 150 to 200.
About 40 people have managed to swim ashore.
Survivors blamed the ship's captain for refusing to take shelter from a gathering storm.
An investigation has been launched into whether it had been carrying too many passengers.
"We'll take action against the ship's driver and the owner as we have got evidence that the driver defied warnings to continue the journey despite the storm," the water transport head said.
Survivors and officials told reporters that the ship capsized after it was swamped by giant waves.
Ferry accidents are common in Bangladesh, one of Asia's poorest nations, which is criss-crossed by more than 230 rivers.
Experts blame poorly maintained vessels, flaws in design and overcrowding for most of the country's ferry tragedies.
Comments will be moderated. Keep comments relevant to the article. Remarks containing abusive and obscene language, personal attacks of any kind or promotion will be removed and the user banned. Final decision will be at the discretion of the Taipei Times.