No 'signs of life' after massive Washington landslide
Hopes of finding any more survivors from a massive mudslide that killed at least eight people waned, as searchers pulled more bodies from the tangled debris field and crews worked through the night in rural Washington state.
Search and rescue teams took to the air in helicopters and the ground on foot on Sunday looking for anyone who might still be alive. Their spirits had been raised late on Saturday night when they heard voices calling for help from the flotsam of trees, dirt and wreckage. Dangerous conditions forced them to turn back in the darkness, but they resumed their work at first light on Sunday.
"We didn't see or hear any signs of life out there today," Snohomish County Fire District 21 Chief Travis Hots said. "It's very disappointing to all emergency responders on scene."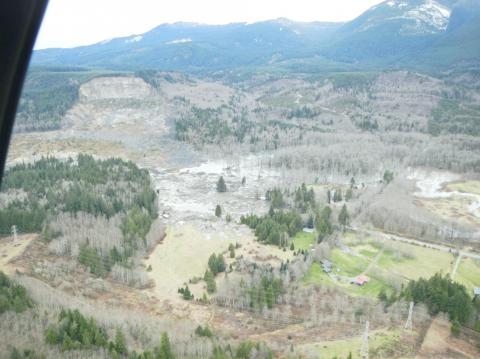 A handout photo taken near Oso, Washington, on Sunday shows an aerial view of the area affected by a landslide near State Route 530 on Saturday. The photo was provided by Washington Governor Jay Inslee's office.
Photo: Reuters
Snohomish County sheriff's Lieutenant Rob Palmer said four more bodies were discovered late on Sunday. Earlier in the day, authorities said one body had been found on the debris field. Three people were already confirmed dead on Saturday.
More people remained missing, and authorities said the number was "fluid." Earlier on Sunday, they said it was at least 18, but that count came before additional bodies were discovered.
The 2.5km2 slide also critically injured several people — including an infant — and destroyed about 30 homes.
Crews were able to get to the soupy, tree-strewn area that was 4.5m deep in places after geologists flew over in a helicopter and determined it was safe enough for emergency responders and technical rescue personnel to search for survivors, Hots said.
The slide wiped through what neighbors described as a former fishing village of small homes — some nearly 100 years old.
Authorities believe the slide was caused by ground made unstable by recent heavy rainfall.
Bruce Blacker, who lives just west of the slide, does not know the whereabouts of six neighbors.
"It's a very close knit community," Blacker said, as he waited at an Arlington roadblock before troopers let him through.
Hots said searchers would continue their efforts through the difficult debris field.
"There may be people in their cars, there may be people in houses," he said.
Comments will be moderated. Keep comments relevant to the article. Remarks containing abusive and obscene language, personal attacks of any kind or promotion will be removed and the user banned. Final decision will be at the discretion of the Taipei Times.