Jakarta governor earns candidacy nod
OPPOSITION ATTRACTS: The nomination of the ex-mayor and businessman broke with Indonesia's history of presidents from the military and traditional political elite
Indonesia's main opposition PDI-P party named Jakarta Governor Joko Widodo as its presidential candidate on Friday, the man widely seen as a shoo-in to be next leader of the world's third-largest democracy.
By choosing him, former president and party chief Megawati Sukarnoputri has also likely given a significant boost to her Indonesian Democratic Party's (PDI-P) chances in the April 9 parliamentary election. The presidential election is on July 9.
She has kept the country on tenterhooks for weeks over whether she would put aside her own ambitions to return to the presidential palace or back the governor, popularly known as Jokowi.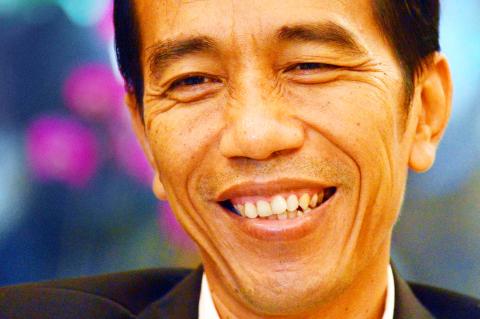 Jakarta Governor Joko Widodo smiles in his city hall office in Jakarta on July 30 last year. Indonesia's main opposition party nominated the hugely popular governor as its presidential candidate on Friday, anointing him the leading contender for July elections.
Photo: AFP
"I got a mandate from the chair of PDI-P Ibu Megawati to become the presidential candidate for the party. In the name of God I'm ready to carry it out," Joko said before kissing the red and white national flag.
Two days earlier, he had accompanied Megawati to pray at the grave of her father, Sukarno, the country's first president in an event taken by many as a sign that Joko had clinched the nomination.
Signaling the Sukarno family hold over the PDI-P party, the announcement of Joko candidacy was made by Megawati's daughter.
The nomination comes with huge expectations that he might finally be the leader who can fix Southeast Asia's biggest economy which has repeatedly fallen short of its promise in the face of rampant graft, confusing policy and weak leadership.
"This is excellent news ... I'm very hopeful about business sentiment going forward because this also means PDI-P will be very big in parliament and that's going to be a stabilizing factor," said Jakob Friis Sorensen, head of the European Business Chamber of Commerce in Jakarta.
The main Jakarta stock index rose more than 3 percent after the announcement.
"'Jokowi's' nomination will be a big boost to confidence and markets. His achievement in Solo [a city where he was previously mayor] speaks for itself, where he improved services and revenue. He is seen as pragmatic and clean," said Hak Bin Chua, economist at Bank of America Merrill Lynch in Singapore.
Opinion polls already predict that the party is likely to win the most seats in April's general election. Parties need to win 20 percent of the seats in parliament or 25 percent of the national vote to be allowed to nominate a candidate in the presidential election three months later.
In just over a year as governor of the Indonesian capital, Joko has won widespread national popularity for his straightforward style. Though his appeal cuts across social classes, he has won particularly strong following among the poor and fast-emerging middle class.
In what would be Indonesia's third direct presidential election, Joko represents a new generation of hands-on leaders in the world's largest Muslim population.
He has a huge lead in polls over more old-style rivals such as former general Prabowo Subianto and tycoon Aburizal Bakrie in the race to the presidential palace.
He swept to national prominence after winning the Jakarta gubernatorial election in late 2012.
His popularity has since skyrocketed, with almost daily media coverage of his blusukan or spontaneous trips to the city's low-income neighborhoods.
The slightly built Joko, 52, grew up in a riverbank slum in the central Javanese town of Surakarta, also known as Solo, and went on to own a small furniture business before becoming mayor of his city.
He has struck a chord with the average Indonesian voter. A victory for the rags-to-riches governor would mark a significant departure from the political norm in Indonesia, which has only seen the rule of members of the military and established political elite.
Indonesia spent its first half a century of independence under autocratic rule that finally came to an end amid social and financial chaos in 1998.
Comments will be moderated. Keep comments relevant to the article. Remarks containing abusive and obscene language, personal attacks of any kind or promotion will be removed and the user banned. Final decision will be at the discretion of the Taipei Times.