Thai protesters besiege PM's retreat
PRESSING THEIR YINGLUCK: About 3,000 people rallied outside a Ministry of Defense complex, as the death toll from Tuesday's clashes with security forces rose by one
Thousands of Thai anti-government protesters yesterday surrounded the prime minister's temporary office in Bangkok's northern outskirts to demand her resignation, a day after clashes with riot police left at least five people dead.
The demonstrators asked officials at the Ministry of Defense complex to prevent Thai Prime Minister Yingluck Shinawatra from using it as her backup office.
She has been unable to enter her regular office compound in downtown Bangkok because it has been blocked by protesters and some of its gates have been cemented shut.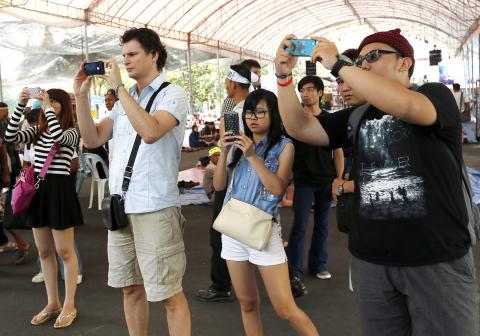 Tourists yesterday photograph anti-government demonstrators at a protest site in Bangkok, Thailand.
Photo: EPA
"We came here because we do not want Yingluck to use the Defense Ministry complex any more," Chumpol Jumsai, a protest organiser, told about 3,000 supporters. "We're asking soldiers to stop letting Yingluck use this facility."
The demonstrators also vowed to target businesses owned by Yingluck's wealthy family.
"Wherever she is, wherever she sleeps, we will go after her," protest leader Suthep Thaugsuban told the crowd. "[We] must intensify our fight and we will attack Shinawatra businesses and their funding sources."
Bluesky TV, the protest movement's own channel, showed footage of troops guarding the building behind barbed wire. In contrast to Tuesday's face-off with police, the atmosphere was not confrontational and Suthep was allowed inside to speak to senior soldiers.
The military said the prime minister and Cabinet ministers stayed away from their temporary offices yesterday to prevent further tensions. Yingluck's elected government has been attempting to avoid violence to keep the powerful military from stepping in.
National Security Council chief Paradorn Pattanatabut yesterday said there was no plan to launch a new operation to clear protest areas, but he denied Tuesday's operation marked a defeat for the authorities.
"The operation was not a failure. At least we regained the energy ministry and 80 percent of the government complex," he said, referring to a group of state offices in the north of the capital.
The Erawan Medical Center, which monitors Bangkok hospitals, said yesterday that one police officer and four protesters had been killed and 65 wounded in Tuesday's clashes. The death toll had earlier been put at four.
Thailand has been racked by political unrest since 2006, when Yingluck's brother, former prime minister Thaksin Shinawatra, was ousted by a military coup after being accused of corruption and abuse of power.
Comments will be moderated. Keep comments relevant to the article. Remarks containing abusive and obscene language, personal attacks of any kind or promotion will be removed and the user banned. Final decision will be at the discretion of the Taipei Times.