Cairo student killed in police clashes, 101 arrested
A student was confirmed dead on Saturday and scores were arrested as supporters of the Muslim Brotherhood clashed with Egyptian police at the Cairo campus of Al-Azhar University, state media reported.
Student activist Shaimaa Mounir told reporters that the dead student was Khaled El-Haddad, a supporter of the Islamist movement that has continued daily protests after the government designated it a terrorist organization last week.
State-run newspaper Al-Ahram said security forces fired teargas to disperse pro-Brotherhood students who were preventing their classmates from taking exams. Al-Ahram quoted an Egyptian Ministry of Health official as saying one student had been killed and five injured.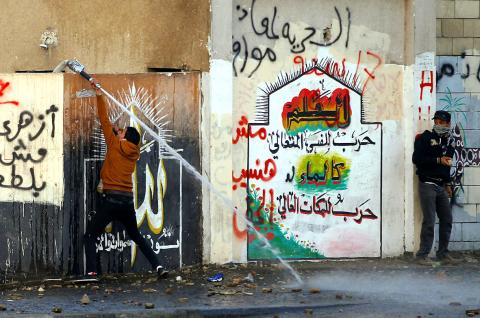 A supporter of the Egyptian army and police grabs a hose being aimed by students backing the Muslim Brotherhood during clashes at Al-Azhar University in Cairo on Friday.
Photo: Reuters
Police arrested 101 students for possession of makeshift weapons, including gasoline bombs, the state news agency reported. Calm was restored and scheduled exams went ahead after the morning clashes.
Al-Azhar, a respected center of Sunni Islamic learning, has for months been the scene of protests against what the Brotherhood calls a "military coup" that deposed former Egyptian president Mohamed Morsi in July after a year in office.
The Brotherhood has condemned what it calls a "violent crackdown on student protests," saying in a statement that the deployment of security forces on university campuses was an attempt by the government to "silence any voice of opposition."
Security sources confirmed the Brotherhood's statement that nine Al-Azhar students have been killed in clashes with police since the start of the academic year in September.
State TV on Saturday said "terrorist students" had set the agriculture faculty building and commerce building on fire.
The Brotherhood's London press office said the buildings were set on fire by security forces.
Separately, a prosecutor ordered the continued detention of seven Al-Azhar students arrested during clashes on Thursday.
Meanwhile, a bomb near an army intelligence building wounded four soldiers yesterday, the third such blast within a week.
The explosion occurred in Sharqiya Province and destroyed the rear compound wall of the intelligence building, the army said, adding that four soldiers were wounded.
However, another blast was averted yesterday when experts defused a bomb near the gate of Al-Azhar's medical faculty in New Damietta City, security officials said.
Comments will be moderated. Keep comments relevant to the article. Remarks containing abusive and obscene language, personal attacks of any kind or promotion will be removed and the user banned. Final decision will be at the discretion of the Taipei Times.