Hong Kong seeks youth, as aging masses loom
Schools replaced by care homes and a once vibrant economy dulled by one of Asia's oldest populations: experts fear this is the Hong Kong of the not-too-distant future.
One in three people in the territory is expected to be 65 or older by 2041, threatening to curb economic growth in the major financial hub, the Hong Kong government has warned.
"It is a huge concern for our population development," Hong Kong University social sciences professor Paul Yip (葉兆輝) told reporters, explaining that the economy will take a hit if the aging trend continues.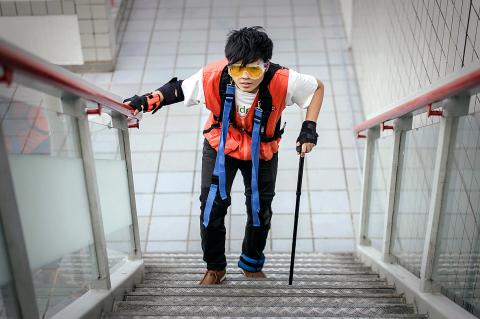 A young man in Hong Kong wears an artificial impediment suit that helps limit a person's vision and motion to recreate what it feels like to be elderly on Oct. 25.
Photo: AFP
"There will be more people, but less that are working, so fewer people will be contributing to the economy of Hong Kong," Yip said.
While some critics argue that government forecasts for 2041 fail to make allowances for migration or those who will continue to work beyond the retirement age of 65, the territory faces clear challenges on an economic and social front.
The impending demographic problem is reflected in programs such as Eldpathy, set up by Hong Kong University of Science and Technology students, which aims to foster more empathy towards the elderly by encouraging teenagers to try on special movement-restricting suits designed to simulate the sensation of age on the body.
"The plight of the aging population in Hong Kong is getting more and more serious," Eldpathy cofounder Samantha Kong told reporters.
For others, the problem is not so much a high elderly population, but Hong Kong's lack of children. Financial pressure, career-driven mentalities, limited space and exorbitant property costs are seen as key drivers of a fertility rate that is one of the lowest in the world by some measure, with an average 1.2 births per woman, according to the World Bank.
"Young people do want to get married, but they just cannot afford to rent a place to live," Yip said.
They tend to stay with parents longer in the hope of saving enough money to buy an apartment, meaning that they end up waiting longer before getting married and having children, he said.
Social trends in Hong Kong also indicate that an increasing number of women are choosing not to get married. Those who do tie the knot do so much later and have a very small window to start families, he said.
Many married couples "would rather have a pet than a child," Yip added.
Based on current fertility and mortality rates, if Hong Kong does not do anything about its aging problem, it will have a median age of 56.3 years by 2040, according to the UN.
Based on the same factors, Singapore will hit 50.3 years, China 45.9 years and Thailand 45.7 years by 2040, according to UN data.
A higher life expectancy and low birthrate will also raise Hong Kong's dependency ratio from 355 dependent persons per 1,000 people now to 712 per 1,000 in 2041.
Hong Kong's semi-autonomy from China expires in 2047 and experts say it is not clear how this will affect its demographic makeup. The former British colony was returned to China in 1997.
Hong Kong Chief Secretary Carrie Lam (林鄭月娥), who heads a committee which in October started a four-month public consultation on the issue, said the territory must broaden and diversify its workforce to tackle the challenge of aging.
The committee has also considered attracting talent from overseas and China, which has brought opposition from the territory's unions.
Allowing well-educated mainland Chinese parents to have children in Hong Kong has also been a suggestion to help reverse the demographic trend.
Up until the end of last year, thousands of mainland women came to give birth in the territory and gained residency rights for their children, but local families complained they were taking up limited hospital beds.
The territory has since banned pregnant mainlanders whose husbands were not from Hong Kong from giving birth at local hospitals.
For some, the specter of a territory with a diminishing work force and lack of youthful dynamism is a very real worry.
"It wouldn't really be a city I would like to live in," Yip says.
Comments will be moderated. Keep comments relevant to the article. Remarks containing abusive and obscene language, personal attacks of any kind or promotion will be removed and the user banned. Final decision will be at the discretion of the Taipei Times.