Rodman leaves North Korea without meeting Kim
'AWESOME MAN': When he left Beijing for Pyongyang last week, former NBA star Dennis Rodman said he would have 'a good conversation' with Kim Jong-un to help the world
Former NBA star Dennis Rodman returned from North Korea on Monday, saying he did not meet "awesome" North Korean leader Kim Jong-un on his third visit to the reclusive state, but was unfazed by the lack of contact.
The heavily tattooed Rodman has developed an unlikely relationship with Kim since making his first trip in March, when he declared the leader a "friend for life," and he is organizing an exhibition basketball game on Jan. 8 to mark his birthday.
Asked how he felt about the lack of face-to-face contact with the young ruler after landing at Beijing airport, Rodman said: "I am not worried about it. I'll see him again."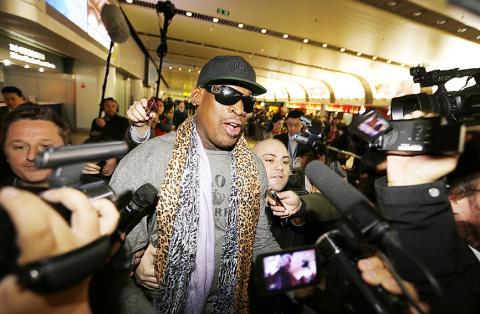 Former NBA player Dennis Rodman speaks to reporters at Beijing airport yesterday after returning from his trip to North Korea.
Photo: Reuters
"He is awesome, man," Rodman said when asked about Kim as he was being ushered out of the airport by security.
"We're going to be playing in two weeks," he added, referring to the match between North Korea and a team of mainly former NBA players.
When he left Beijing for Pyongyang last week, Rodman said he would have "a good conversation" with Kim to help the world, without elaborating.
Kim, educated in Switzerland, is reportedly a keen basketball fan, especially of the Chicago Bulls. Rodman played a key role in winning three NBA titles alongside Michael Jordan for the Bulls in the 1990s.
There is growing concern over the regime's stability after the execution earlier this month of Jang Song-thaek, a high-level official who was the uncle and former political mentor of Kim, but Rodman earlier distanced himself from political events.
He spent much of his time in the North training the country's basketball team, reports said.
The team of former NBA players was expected to be announced during the trip, but no details have yet been given.
The sides will face each other in the first half, before they are mixed up for the second half, according to reports.
Comments will be moderated. Keep comments relevant to the article. Remarks containing abusive and obscene language, personal attacks of any kind or promotion will be removed and the user banned. Final decision will be at the discretion of the Taipei Times.