New Zealand PM 'unidentified guest' on world stage
Spare a thought for New Zealand Prime Minister John Key, or as he is known in the rest of the world, the "unidentified guest."
Domestically, polls show he is a popular leader. However, during each of his big moments on the international stage, he seems to attract another small insult that feeds into a wider anxiety among New Zealanders that their country is not much noticed or taken seriously.
The latest incident came this week when Key was photographed by the European Pressphoto Agency talking with his British counterpart at Nelson Mandela's funeral. The caption? "British Prime Minister David Cameron (R) laughs with an unidentified guest..."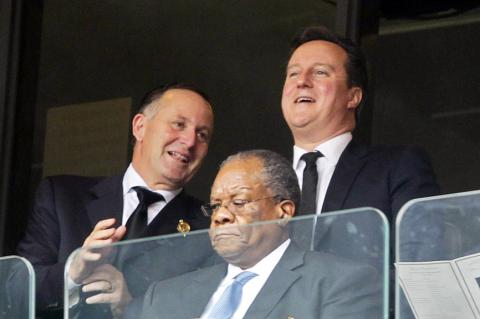 UK Prime Minister David Cameron, right, laughs with "unidentified guest" John Key, left, as he attends the official memorial ceremony for former South African president Nelson Mandela in Johannesburg, South Africa, on Tuesday.
Photo: EPA
A small insult to be sure, but one that received plenty of media attention in the South Pacific nation of 4.5 million people, especially after the photo ran on the New York Daily News Web site. The caption has since been updated.
It seemed to fit a pattern. In 2011, Key was jubilant after US President Barack Obama agreed to meet with him in the Oval Office. However, at the subsequent press conference Obama repeatedly referred to him as "Prime Minister Keyes." Perhaps the worst part was that nobody seemed to notice.
When he visited Queen Elizabeth II this year, the Daily Mail newspaper described "Kay" as a "galloping colonial clot" for breaking royal protocol by discussing his visit and releasing a photo of himself in the queen's private sitting room. Never mind that it was not Key, but a reporter who had taken and distributed the picture.
Then there was Key's goofy 2009 appearance on the Late Show with David Letterman, during which Key read out the top 10 reasons to visit New Zealand. Letterman asked the prime minister whether the nation was near Tasmania, how many years the plane ride had taken and whether New Zealand got mail.
"Why is he out here Paul?" Letterman asked his band leader, Paul Shaffer.
Perhaps part of the problem for New Zealanders is that their country usually functions well enough not to receive the negative attention that keeps other nations in the media spotlight. Corruption, crime and unemployment are all low compared with other countries. Life, for the most part, is pretty good — if a little quiet.
Director Peter Jackson, for one, has done his part to keep New Zealand in the international consciousness with his five films about the fictional hobbits, elves and dragons that inhabit Middle-earth.
However, New Zealanders' existential worry about their place in the world runs deep. The comedy duo in Flight of the Conchords regularly tapped into this feeling. In one episode of their former HBO TV series, a fruit vendor insults them after mistaking them for Australians.
For the record, New Zealand is a separate country.
Comments will be moderated. Keep comments relevant to the article. Remarks containing abusive and obscene language, personal attacks of any kind or promotion will be removed and the user banned. Final decision will be at the discretion of the Taipei Times.