Bangladesh clears way for opposition leader's death
NO MORE REPRIEVE: Abdul Quader Mollah would be the first person executed in special trials of people suspected of crimes during the war of independence
Bangladesh's Supreme Court cleared the way yesterday for the execution of an opposition leader convicted of war crimes when it rejected a last-minute appeal filed by his lawyers.
The execution of Abdul Quader Mollah has been on hold since he was granted a reprieve on Tuesday night just hours before he was to be put to death. Attorney General Mahbubey Alam said the government would now decide when the execution takes place.
"There are no more barriers to execute Quader Mollah. There is no chance of any confusion," he said.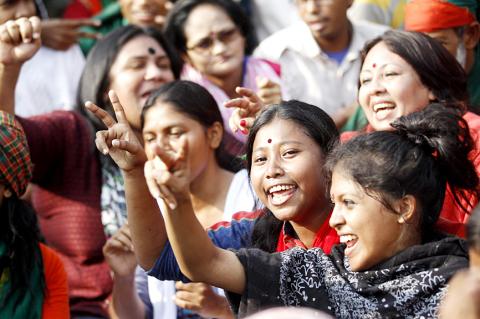 People celebrate after the Supreme Court rejected Abdul Quader Mollah's request for an appeal against his death sentence in Dhaka yesterday.
Photo: Reuters
Mollah was convicted of war crimes committed during the nation's war of independence against Pakistan in 1971, and his execution is likely to usher in a new wave of political violence ahead of national elections set for next month.
Mollah's party, Jamaat-e-Islami, an ally of the main opposition, Bangladesh Nationalist Party, has warned of "dire consequences" if he is executed.
His lawyers were trying to convince the Supreme Court, which began hearing the case Wednesday, to throw out the sentence.
"My client [Mollah] has been deprived of fair justice. But since the highest court has made the decision, we have nothing more to say," defense lawyer Khandaker Mahbub Hossain said.
The developments come at a time of deep tension in Bangladesh, a nation struggling to overcome extreme poverty and rancorous politics.
Mollah would be the first person executed in special trials begun by Prime Minister Sheikh Hasina in 2010 of people suspected of crimes during the war of independence. The government said Pakistani soldiers, aided by local collaborators, killed 3 million people and raped 200,000 women during the nine-month war.
Most of the defendants in the trials are opposition members. Mollah's party and the Bangladesh Nationalist Party said the trials are an attempt to weaken the opposition and eliminate Islamic parties. Authorities have denied the allegations.
Asif Munier, son of a university teacher who was killed in 1971 for supporting independence, said he was happy with the decision.
"Yes, we are happy because justice has been served... It's not about any revenge but for justice," Munier told reporters immediately after the decision came from the Supreme Court.
Carrying out the execution would complicate an already critical political situation in Bangladesh, where the opposition has carried out violent protests for weeks to support a demand for an independent caretaker government to oversee the general elections set for Jan. 5.
The government has rejected that demand and said a political government headed by Hasina would conduct the elections, although the opposition alliance led by former prime minister Khaleda Zia plans to boycott the vote. Weeks of blockades and general strikes have left nearly 100 people dead since October.
Mollah was found guilty by the special tribunal in February of killing a student and a family of 11 and of aiding Pakistani troops in killing 369 others during the independence war. He was sentenced to life in prison, but the Supreme Court changed that to a death sentence in September.
Until it gained independence in 1971, Bangladesh was the eastern wing of Pakistan.
Comments will be moderated. Keep comments relevant to the article. Remarks containing abusive and obscene language, personal attacks of any kind or promotion will be removed and the user banned. Final decision will be at the discretion of the Taipei Times.