Central African Christians flee to airport
SECTARIAN STRIFE: Fear of attacks by Muslim ex-rebels have driven thousands of Christians to seek refuge at Bangui airport, under the control of the French military
Thousands of Christian civilians sought refuge at a Central African Republic airport guarded by French soldiers on Friday, fleeing from the mostly Muslim ex-rebels with machetes and guns who rule the country a day after the worst violence to hit the chaotic capital in nine months.
When several French helicopters landed at the airport, people sang with joy as they banged on plastic buckets and waved rags into the air in celebration.
Outside the barbed wire fences of the airport, bodies lay decomposing along the roads in a capital too dangerous for many to collect the corpses. Thursday's clashes left at least 280 dead, according to national radio, and have raised fears that waves of retaliatory attacks could soon follow.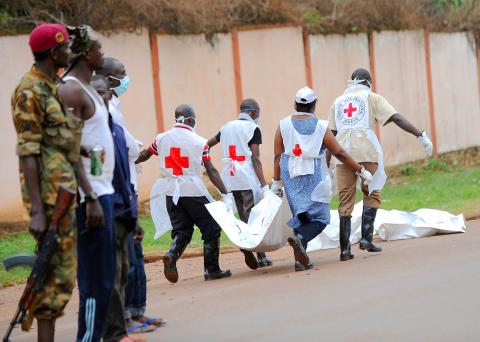 Ex-Seleka rebels, left, look at Red Cross workers retrieving bodies from the site of clashes on Friday in Bangui, Central African Republic, near a base of the rebels.
Photo: AFP
"They are slaughtering us like chickens," said Appolinaire Donoboy, a Christian whose family remained in hiding.
France had pledged to increase its presence in its former colony well before Christian militias attacked the capital at dawn on Thursday. The arrival of additional French troops and equipment came as the capital teetered on the brink of total anarchy and represented the greatest hope for many Central Africans.
As night fell across the near anarchic capital, Christians fearing retaliatory attacks by the mostly Muslim ex-rebels crowded as close to the runway as possible, laying out their woven mats in front of a barbed wire coiled fence. National radio announced that at least 280 people had died, citing figures from local Red Cross officials.
The US State Department said it was "deeply concerned" by the violence and praised France's quick intervention.
France signaled its amped-up presence in its former colony on Friday by sending out armored vehicles to patrol the streets. A French fighter jet made several flyovers, roaring through the sky over an otherwise lifeless capital as civilians cowered at home. Britain also flew in a C-17 plane on Friday loaded with equipment to help with France's intervention.
"Thanks to France and the United Nations who want to save the Central Africans, soon the Seleka attacks on civilians will stop. We have had enough of Seleka killing, raping and stealing," said Abel Nguerefara, who lives on the outskirts of Bangui.
Despite the cheers that went up when a jet engine roared overhead, France insisted it was going only reluctantly into Central African Republic and with the limited aim of doubling its presence in the country to 1,200 troops.
Rebel leader-turned-Central African president Michel Djotodia appealed for calm, even as his residence and that of the prime minister were looted and vandalized by the fighters on Thursday. He announced a dusk-to-dawn curfew in hopes of preventing retaliatory violence against Christians from Muslims.
In a speech broadcast Thursday in the Sango language and a TV interview in French, Djotodia called on people to realize that French forces were not in Central African Republic to take sides in an increasingly sectarian conflict.
Djotodia, who is Muslim, unified rebel groups in the country's mostly Muslim north, where resentment of the federal government and a sense of disenfranchisement has been rife for years. Yet once those rebels were unleashed upon the capital, he wielded very little control over the mix of bush fighters, child soldiers and foreign mercenaries he had recruited.
France's military, which controls Bangui airport, said about 2,000 Central Africans took refuge there on Thursday, most if not all of them Christian. The crowd swelled on Friday.
Yves Wayina, 26, fled with his wife and six children.
"France must come and rapidly deploy and do everything possible to save us," he said on Friday.
"We are angry," he said through the fence keeping civilians away from the airport runway. "The Muslims should go back where they came from."
Comments will be moderated. Keep comments relevant to the article. Remarks containing abusive and obscene language, personal attacks of any kind or promotion will be removed and the user banned. Final decision will be at the discretion of the Taipei Times.