Europe weathers winter storm as more lives lost
WELL-PREPARED: Although at least 10 people died in Atlantic storm Xaver, dikes held in countries throughout northern Europe and feared flooding did not materialize
Icy winter storms with hurricane-force winds on Friday lashed northern Europe, where the death toll rose to 10, while hundreds of thousands suffered power blackouts and road, rail and air transport chaos.
The latest known victim was an elderly woman in north-central Sweden who was found dead in the snow outside her apartment, wearing only her dressing gown.
Also in Sweden, a man was killed by a falling tree on Friday, and two Philippine sailors who were swept off a Dutch-registered ship into freezing waters on Thursday remained unaccounted for, with the search called off.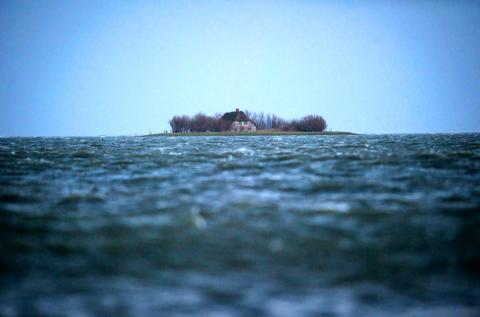 A house is seen behind high waves generated by Atlantic storm Xaver on the isle of Hallig Langeness, Germany, on Friday.
Photo: EPA
Atlantic storm Xaver, having barreled across Britain, where two people died on Thursday, packed winds of up to 158kph as it lashed Germany, also battering the Netherlands, Poland and southern Scandinavia.
Across northern Europe, emergency services battled to evacuate flooded harbor areas, sandbag sodden dikes and repair damage from toppled trees that crashed onto houses, highways, train tracks and electricity lines.
Blackouts hit 400,000 households in Poland and affected 50,000 people in Sweden, and 4,000 homes in Germany, while thousands of air passengers were stranded as hundreds of flights were canceled at Amsterdam, Berlin, Hamburg, Gdansk and other airports.
The highest ocean swells in decades — whipped up by the strong winds and a large tidal surge — smashed into dikes in northern Germany and the Netherlands, which however reported no major breaches.
Three people were killed in Poland when a tree crashed down onto their car near the northern town of Lembork, firefighters' spokesman Bogdan Madej said.
"Three people died on the spot, another was taken to hospital," he said.
Despite the deaths and turmoil, affected countries breathed a sigh of relief on Friday that the damage was not worse — mindful of catastrophic floods that hit North Sea countries in 1953, when more than 2,000 people died.
Britain reported the worst tidal surge since that disaster, but Environment Agency spokesman Tim Connell told the BBC that "the defenses seemed to have held up well."
In northern Germany, the Elbe River harbor of Hamburg was under more than 6m of water — the second-highest level since records were first kept in 1825 — leaving only the tops of lamp posts sticking out of the freezing waters.
Also in Hamburg, a fallen tree derailed a suburban commuter train which then hit a bridge post. The fire brigade freed six passengers from the train, one with minor injuries.
In northern Schleswig-Holstein state, emergency services were called out more than 2,000 times, dealing with road and rail accidents that left four people injured, roofs ripped off houses and smashed windows.
In snowy Berlin, hefty winds brought down the 13m-tall Christmas tree outside the residence of German President Joachim Gauck.
Still, German authorities said the worst had been averted, compared with disasters such as severe floods in 1962 that left 340 people dead.
"Germany held its breath and looked at the dikes, and they withstood" the high seas, Schleswig-Holstein Minister of the Environment Robert Habeck said.
"We are much better prepared today" than in 1962, Christian Herold of the meteorological service said, with dikes higher and building design improved.
In Scandinavia, the Oeresund road and rail bridge between Sweden and Denmark was closed overnight, but reopened early on Friday as authorities scaled down the alert level from the maximum 3 to 2.
However, several southern Swedish cities were still battling floods with water levels 1.5m higher near the ports in Helsingborg and Malmo, and all rail travel in the region was suspended until yesterday.
However, in the low-lying Netherlands defenses withstood water levels that had reached their highest point since the floods of 1953, public broadcaster NOS reported.
Comments will be moderated. Keep comments relevant to the article. Remarks containing abusive and obscene language, personal attacks of any kind or promotion will be removed and the user banned. Final decision will be at the discretion of the Taipei Times.