France seeks mandate to fight
ACTION NEEDED: France has joined warnings of a looming genocide in the Central African Republic and wants a UN resolution authorizing force to protect civilians
France, which plans to send hundreds of extra soldiers to the Central African Republic, on Monday proposed a UN Security Council resolution authorizing international troops to use force to end mounting chaos. As calls mount to head off what some UN officials call a genocide risk, the resolution, which would also impose an arms embargo on the strife-torn country, could be passed by the 15-member Security Council next week.
Central African Republic Prime Minister Nicolas Tiangaye said after talks in Paris that French Foreign Minister Laurent Fabius had talked of adding 800 troops to the 410 French soldiers already based in the capital, Bangui.
Tiangaye said "serious war crimes" are being committed in his country, where rebels forced Central African Republic President Francois Bozize to flee in March. A transitional government has since lost control of the country of 4.5 million people.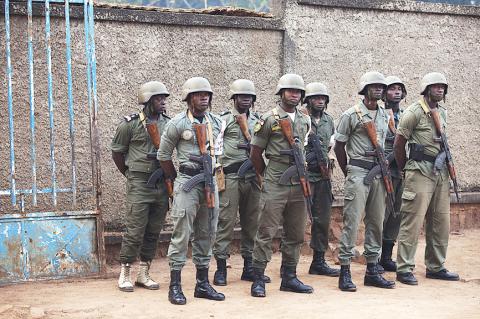 Multinational Force of Central Africa (FOMAC) peacekeepers from the Republic of Congo form a line during morning instructions at the FOMAC camp in Bossangoa, Central African Republic, on Monday.
Photo: Reuters
French officials had already spoken of increasing troop numbers in the Central African Republic, but France's foreign ministry would not confirm the figures given by Tiangaye.
France, which has joined the genocide warnings also made by the US and the UN, circulated a draft Security Council resolution which expresses deep concern at the "total breakdown in law and order" and "inter-sectarian tensions."
Raids by Seleka rebels who forced Bozize to escape the country have degenerated into battles between Muslim and Christian groups, and militias. The country is majority Christian, while Seleka is dominated by Muslims.
The resolution, obtained by reporters, aims to strengthen an African stabilization force in the Central African Republic as a first step toward turning it into a formal UN peacekeeping force.
The resolution would allow African and French troops to use "all necessary measures" under Chapter VII of the UN Charter to protect civilians in the Central African Republic. Chapter VII can give legal backing to the use of force.
The resolution would also impose an embargo on all types of arms and ammunition against the Central African Republic.
It would allow for a special committee to order sanctions against any individual who holds up moves toward elections due in just over a year or is found to be committing human rights abuses.
An African force, officially known as MISCA, currently has about 2,500 troops, which should increase to about 3,600 when it is taken over by the African Union next month.
However, UN officials and experts say the force is not big enough.
UN Secretary-General Ban Ki-moon has said up to 9,000 peacekeepers could be needed in the Central African Republic.
The draft resolution would order Ban to draw up a report in three months on whether a UN force is needed.
In a heady spiral into anarchy since the Seleka rebel coalition overthrew Bozize, the UN and aid workers say whole villages have been burned down and rapes, torture and indiscriminate killing have become the norm.
UN Deputy Secretary-General Jan Eliasson called for the Security Council to act quickly on the crisis.
Eliasson said the Central African Republic is "becoming a breeding ground for extremists and armed groups in a region that is already suffering from conflict."
"A country in the heart of Africa is descending into complete chaos before our eyes," Eliasson told the 15-member council. "The situation requires prompt and decisive action."
Ban has suggested possible financial support for MISCA, while also proposing that it become a full UN peacekeeping mission.
Diplomats expect the UN mission to be created early next year.
Comments will be moderated. Keep comments relevant to the article. Remarks containing abusive and obscene language, personal attacks of any kind or promotion will be removed and the user banned. Final decision will be at the discretion of the Taipei Times.