Filipino migrants mobilizing to help
Filipinos abroad who have spent harrowing days trying to contact loved ones after a typhoon devastated their homeland are mobilizing to send relief, despite misgivings about corrupt local officials pocketing aid on the ground.
With thousands feared dead and aid only trickling in after Typhoon Haiyan laid waste to entire coastal towns on Friday last week, many among the10 million strong disaspora are still frantically trying to find out if their relatives are alive and their homes still standing.
From Asian capitals to the US and Europe, Filipino communities are taking to churches and social media sites to raise funds for communities left with nothing — and growing increasingly desperate.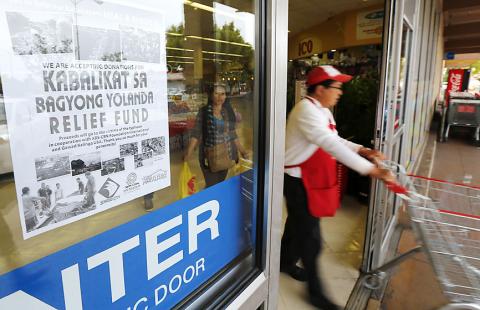 A seafood store in San Diego, California, posts signs on Tuesday to collect cash donations for people in the central Philippines affected by Typhoon Haiyan.
Photo: Reuters
In Hong Kong, where about 150,000 Filipinos work as domestic helpers, the Red Cross said a hotline set up to trace the missing had been overwhelmed.
"The maids were crying. They didn't know what to do," spokeswoman Denise Wong said.
Liezel Miralles, a 40-year-old domestic worker from Batad, a coastal town of 20,000 people, had not been able to contact her husband and other relatives to find out if they had survived.
"I feel very, very, very sad, my whole family is there," Miralles said as she bought groceries for her employer at a street-side market. "There is no house, no phone, no connection."
On Sunday, when Hong Kong's downtown throngs with domestic helpers on their day off, worker groups will hold an "information drive" and gather donations.
Support group United Filipinos is one of many organizations and individuals around the world planning to direct aid only to non-government agencies.
"We are afraid that if we send to the government, it will just to go their pockets and will not reach the beneficiaries," secretary-general Eman Villanueva said.
"Politicians are using it for their own benefit even in the midst of this devastating situation. They are still thinking for themselves."
In Singapore, Filipina expatriate Dimples Larrazabal said the 24 hours it took for her to get in touch with her mother, her brother and his family in Ormoc, Leyte province, seemed like an eternity.
Social media sites were inundated with posts from people searching for missing relatives, uploading pictures of individuals and families to Facebook and Twitter in posts tagged #tracingPH or simply #missing.
Google said it had updated its Person Finder site to include Philippine mobile numbers.
Krima Molina, a 26-year-old teacher from Leyte now living in Tokyo, said she watched in horror as Facebook posts from friends at home turned into increasingly desperate pleas for help.
Homeless survivors were becoming ill from exposure, left with no shelter but makeshift shanties made of plastic tarps draped over plywood, she said.
"They need medicine. They need volunteer doctors. A lot of people are injured," she said.
"Support from our kababayans [countrymen] abroad is overwhelming. Despite their dire circumstances, they are more than willing and ready to pitch in," said Garry Martinez, the chairman of Migrante International, a group supporting overseas Filipinos.
"The bigger tragedy is if corrupt officials in government exploit this calamity to further plunder and steal funds meant for victims and survivors, Martinez said.
Widespread abuses and personal enrichment by government officials followed previous disasters, including Typhoon Bopha in December last year, said Nicole Dumaguindin from US umbrella group, the National Alliance for Filipino Concerns.
Comments will be moderated. Keep comments relevant to the article. Remarks containing abusive and obscene language, personal attacks of any kind or promotion will be removed and the user banned. Final decision will be at the discretion of the Taipei Times.