S Korea unveils new missle systems in parade
South Korea yesterday showed off new missiles designed to target North Korea's artillery and long-range missiles and vowed to boost deterrence against its unpredictable neighbor.
The ballistic Hyeonmu-2, with a range of 300km, and the Hyeonmu-3, a cruise missile with a range of more than 1,000km, were put on public display for the first time in a rare South Korean military parade.
Both of the indigenously developed missiles have been deployed. They were unveiled in February after the North conducted its third nuclear test in defiance of international warnings, two months after it successfully launched a long-range rocket and put an object into space.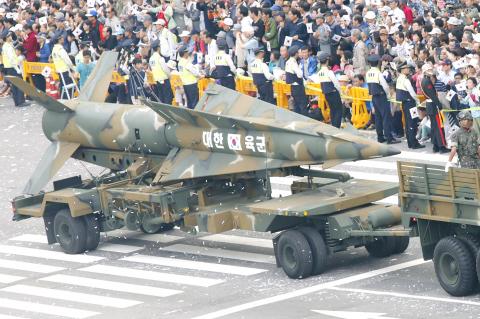 A South Korean Hyeonmoo 1 ballistic missile is paraded through the streets of Seoul yesterday to mark the 65th anniversary of the nation's Armed Forces Day.
Photo: Reuters
"We must build a strong anti-North deterrence until the day the North drops its nuclear arms and makes the right choice for its people and for peace on the Korean peninsula," South Korean President Park Geun-hye said at the parade marking the founding of the South's armed forces 65 years ago.
US Secretary of Defense Chuck Hagel, who is on a four-day visit, watched the parade from a podium at a military airfield south of Seoul.
The North's rocket launch in December last year was widely seen as a test of long-range missile technology. The North said it was putting up a satellite for peaceful purposes.
The launch and the February nuclear test led to tougher UN sanctions aimed at stopping the North's arms development and trade. The sanctions angered the North and it responded with threats of a nuclear strike on South Korea and the US.
The South has a modern conventional military superior to the North's army, which relies on largely obsolete equipment, but is barred under agreements with the US and by international conventions from developing nuclear arms or longer-range missiles.
South Korea reached a deal last year with the US to extend the range of its missiles to better counter the threat from the North, securing the right to develop ballistic missiles with a range of up to 800km.
Unlike North Korea which often stages large-scale military parades, South Korea rarely puts on large, public displays of its military. yesterday's parade was the biggest in 10 years.
Comments will be moderated. Keep comments relevant to the article. Remarks containing abusive and obscene language, personal attacks of any kind or promotion will be removed and the user banned. Final decision will be at the discretion of the Taipei Times.