Koreas hold talks on family reunions
ACROSS THE DIVIDE: A symbolic step to resume the reunion program for families separated by the Korean War was almost foiled by disagreement over the venue
North and South Korea held talks yesterday on resuming reunions for families separated for decades by the 1950-1953 Korean War as they seek to build on a recent easing of cross-border tensions.
The reunion program was suspended after the North's shelling of a South Korean border island in November 2010 and its resumption would mark a symbolic, but important step.
The talks, between North and South Korean Red Cross officials, took place in the border "truce" village of Panmunjom, where the 1953 ceasefire ending hostilities was signed.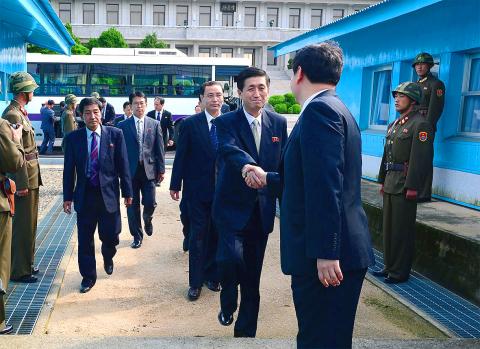 Park Yong-il, fourth right, North Korea's chief delegate to cross-border family reunion talks, shakes hands with his South Korean counterpart Lee Duck-hang, third right, as he crosses over the Military Demarcation Line with delegates for a meeting at the truce village in Panmunjom yesterday.
Photo: EPA / KOREA POOL
"The issue of separated families is one of the most urgent tasks," the head of the South's Red Cross delegation told reporters on his way to the venue.
"I will do my best to relieve their pain," he was quoted as saying by the Yonhap news agency.
The talks were almost derailed by a debate over the venue, with the North wanting the meeting to be held at its Mount Kumgang resort.
As well as the family reunions, the North is keen to restart South Korean tours to Mount Kumgang, but Seoul insists that the two issues should not be linked together.
The South suspended the tours in 2008 after a North Korean soldier shot dead a female tourist who strayed into a restricted zone.
The push to restart the reunions was initiated last week by South Korean President Park Geun-hye, who urged Pyongyang to "open its heart" and agree to kickstart the program in time for next month's Chuseok holiday — when Korean families traditionally gather together.
Millions of Koreans were left separated by the war, which sealed the peninsula's division. Most have died without having had a chance to meet family members last seen six decades ago. About 72,000 South Koreans — nearly half of them aged over 80 — are still alive and wait-listed for a chance to join the highly competitive family reunion events, which select only up to a few hundred participants each time.
At the reunions, North and South Koreans typically meet in the North for two or three days before the South Koreans — many in tears — head home again.
For those too infirm to travel, reunions via video conferencing have been arranged in recent years.
The reunion program began in 2000 following an historic inter-Korean summit. Sporadic events since then have seen about 17,000 people briefly reunited.
The last such meeting took place in late 2010, before the North's shelling of Yeonpyeong Island.
Inter-Korean relations have showed signs of improving recently after months of heightened military tensions that followed the North's nuclear test in February.
The two sides have already agreed to work on reopening their Kaesong joint industrial zone which was shut down in April and the South has accepted Pyongyang's proposal for talks on the Mount Kumgang tours — although not until late next month.
Seoul has sought to play down expectations of a sudden turnaround in relations with the North, saying the recent breakthroughs are just the start of what will be a long, incremental progress.
Park has also made it clear that any substantial dialog on strategic issues can only take place if North Korea offers a tangible commitment to abandon its nuclear weapons program.
Pyongyang has said it will never allow its nuclear deterrent to be used as a bargaining chip.
Comments will be moderated. Keep comments relevant to the article. Remarks containing abusive and obscene language, personal attacks of any kind or promotion will be removed and the user banned. Final decision will be at the discretion of the Taipei Times.