Phippines adds upgraded US cutter to naval fleet
FACING CHINA: The cutter will be used to patrol disputed waters in the South China Sea. Manila spent about US$15 million to upgrade its weapons and radar systems
The Philippines took possession of a former US Coast Guard ship yesterday, part of its biggest military upgrade in decades, as a stronger economy allows it to raise spending to counter China's growing assertiveness in disputed waters.
The military build-up, which is heavily focused on maritime capability, is likely to add to tension over the South China Sea.
Philippine President Benigno Aquino III and senior ministers watched as the frigate, BRP Ramon Alcaraz, sailed into Subic Bay, a former US naval base, after a two-month voyage from South Carolina, where its 88 Philippine crew trained for a year.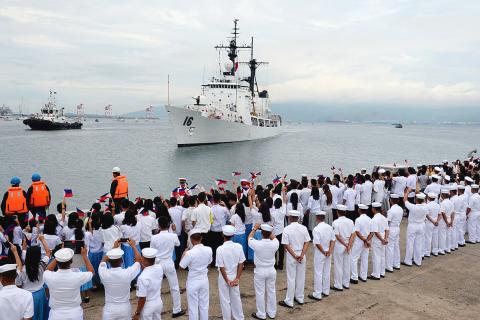 The Philippine Navy's new cutter, the BRP Ramon Alcaraz, is welcomed as it arrives at the former US naval base in Subic Bay yesterday.
Photo: AFP
The 46-year-old Hamilton-class cutter, the second of its type the Philippines has received from the US, will be used to patrol areas of the South China Sea near the Philippine coast that have become a major source of tension with Beijing.
"It's very clear — real growth is possible only if there's genuine stability and peace in our nation," Aquino said in a speech, adding the country needed to "erase the image" of a poorly equipped military.
Aquino is determined to modernize the navy and air force after three past administrations failed to implement a 330 billion peso (US$7.6 billion) spending plan passed in 1995, after the Chinese occupation of the half-submerged Mischief Reef.
However, a weak economy and two long-running insurgencies by Maoist and Muslim rebels drained the country's funds and left it with one of Southeast Asia's weakest militaries.
When Aquino took over in 2010, just 10 percent of the 1995 plan's budget had been used.
He won congressional approval to extend the plan 15 years and spend US$1.7 billion to upgrade the military over the next five years, helped by robust economic growth that hit 7.8 percent in the first quarter this year, the fastest in Asia.
China, Taiwan and Vietnam claim the entire South China Sea while Brunei, Malaysia and the Philippines have partial claims on areas believed to have rich deposits of oil and natural gas.
Last year, China added to Manila's alarm by occupying the Scarborough Shoal (Huangyan Island, 黃岩島), just 124 nautical miles (230km) off the Philippine coast, following a tense standoff with Philippine vessels.
The Philippines received the latest cutter for free under Washington's foreign military financing program, but spent about US$15 million to upgrade its weapons and radar systems.
General Emmanuel Bautista, head of the 130,000-member armed forces, said the ship would make "a big contribution" to efforts to secure Philippine territorial waters against intrusions.
"We want to improve our maritime domain awareness so that we know what is going on around us and also be able to respond to some contingencies," Bautista said in an interview.
"BRP Ramon Alcaraz is going to fill the gap between now and the delivery of new frigates," Bautista said, adding that the armed forces also plan to buy radars, surveillance planes, fighters, and helicopters under the US$1.7 billion plan.
Manila has opened talks to acquire a dozen new fighter jets and two frigates from South Korea. It has also ordered 10 coast guard ships from Japan and three more vessels from France.
Comments will be moderated. Keep comments relevant to the article. Remarks containing abusive and obscene language, personal attacks of any kind or promotion will be removed and the user banned. Final decision will be at the discretion of the Taipei Times.