Indian 'spy' fights for life after attack
'DASTARDLY': The attack in a Pakistani prison made front-page news in Indian newspapers, while the Indian prime minister said it was a 'very sad incident'
An Indian national on death row in Pakistan who was attacked by fellow inmates armed with bricks has been put on a ventilator as he fights for his life, officials said on Saturday.
Sarabjit Singh, who was sentenced to death 16 years ago on espionage charges, was rushed to hospital on Friday with multiple wounds, including a severe head injury, after an argument in Lahore's Kot Lakhpat Jail.
"Singh's condition is critical with multiple wounds on his head, abdomen, jaws and other body parts, and he has been put on ventilator," a senior doctor in Lahore's Jinnah hospital told reporters on condition of anonymity.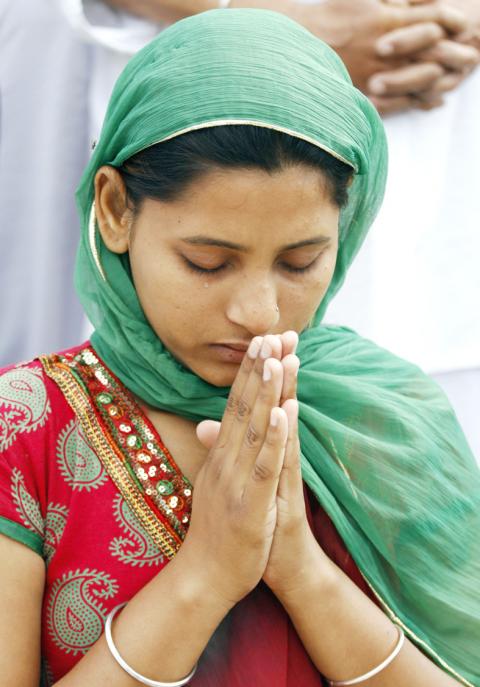 The daughter of Indian prisoner Sarabjit Singh, who was attacked on Friday by fellow inmates of a Pakistani prison, prays at the Golden Temple, in Amritsar, India, yesterday.
Photo: EPA
Singh is fighting for his life in the hospital's intensive care unit (ICU), and the next 24 hours are critical, the doctor said, adding that the head injury was "quite severe."
BLUDGEONED
Singh was hit with bricks and other blunt objects by two inmates, a police officer investigating the case told reporters, identifying the suspects only by single names Aamir and Mudasir.
"These inmates attacked Singh while he was doing his evening walk. We don't exactly know at the moment what was the reason for this attack, but initial investigation reveals that they had exchanged hot words with Singh," he said on condition of anonymity.
Singh's lawyer Owais Sheikh told reporters his client had received threats following the execution of a Kashmiri separatist in India.
Mohammed Afzal Guru was hanged in New Delhi on Feb. 9 for his part in a deadly Islamist attack on the Indian parliament in 2001.
The Human Rights Commission of Pakistan (HRCP) condemned the attack on Singh as a "dastardly act" and called on the government to make a thorough inquiry into the matter and punish the guilty persons.
FAILURE OF DUTY
"The authorities have obviously failed to do their elementary duty" of providing him safety and security, the commission said in a statement.
The attack on Singh was front-page news in Indian newspapers on Saturday, with Indian television stations running frequent updates on his condition and Indian Prime Minister Manmohan Singh describing it as a "very sad incident."
Sarabjit Singh's sister, Dalbir Kaur, said Indian government officials had told her that Pakistan has granted visas for four family members to travel to Lahore and is also allowing one person to stay with him in the hospital.
"We want to be with Sarabjit in this difficult time. He is all alone. We don't even know what his condition is," Kaur told reporters in Amritsar, a city in northern India.
Four members of Singh's family — his wife, two daughters and his sister — were set to travel to Pakistan yesterday after being granted 15-day visas, the Press Trust of India reported.
Sarabjit, 49, was convicted for alleged involvement in a string of bomb attacks in Punjab Province in Pakistan, that killed 14 people in 1990.
His mercy petitions were rejected by the courts and former Pakistani president Pervez Musharraf.
His family says he is a victim of mistaken identity and had inadvertently strayed across the border.
Pakistani Foreign Office spokesman Aizaz Ahmad Chaudhry confirmed the Pakistan High Commission in Delhi was told to provide visas to Singh's family.
Chaudhry also said the government "permitted two officials of the Indian High Commission in Islamabad to travel to Lahore and visit the prisoner late last night."
Comments will be moderated. Keep comments relevant to the article. Remarks containing abusive and obscene language, personal attacks of any kind or promotion will be removed and the user banned. Final decision will be at the discretion of the Taipei Times.