Law compensates Marcos victims
ILL-GOTTEN GAINS: The compensation will come from about US$600 million recovered from secret Swiss bank accounts set up by Ferdinand Marcos
Philippine President Benigno Aquino III signed a landmark law yesterday compensating human rights victims of former dictator Ferdinand Marcos, 27 years after a bloodless "People Power" revolution ended his reign.
Ten billion pesos (US$244 million) will be distributed to potentially thousands of people who Marcos' security forces tortured, raped or detained, as well as relatives of those who were killed, during his rule.
Speaking at a ceremony in Metro Manila to mark the anniversary of the revolution that was led by his mother, Aquino said the law was part of his government's efforts to "right the wrongs of the past."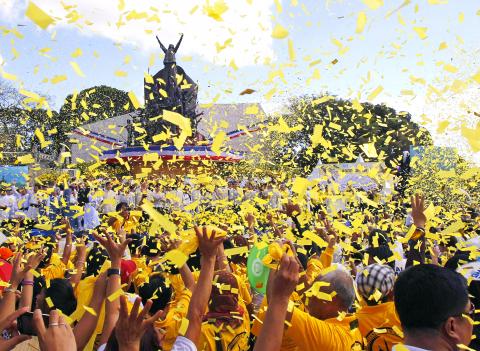 People are showered with confetti yesterday at the People Power Monument in Quezon City, Metro Manila, where Philippine President Benigno Aquino III led celebrations on the 27th anniversary of the 'People Power Revolution' that drove late Philippine dictator Ferdinand Marcos from power.
Photo: Reuters
"We may not bring back the time stolen from martial law victims, but we can assure them of the state's recognition of their sufferings that will help bring them closer to the healing of their wounds," Aquino said.
Loretta Ann Rosales, an anti-Marcos activist who was tortured by his security forces and now heads the country's independent rights commission, said the law would finally allow all his victims to feel a sense of justice.
"The law is essential in rectifying the abuses of the Marcos dictatorship and obliges the state to give compensation to all those who suffered gross violations of their rights," Rosales said.
SYMBOLIC INTENT
Marie Hilao-Enriquez, the chairwoman of Selda, a group which represents victims of the Marcos regime, also welcomed the symbolic intent behind the law, but said the money was too little to have a meaningful impact.
"There are so many victims that when you divide it to everyone it will not result to much," Hilao-Enriquez said.
Her group represents about 10,000 documented victims, but she said there were many more who had not been officially registered and may now come forward, such as Muslim communities in the remote south of the country.
Under the law, a compensation board will accept and evaluate applications for reparations over the next six months. Those victims will be from when Marcos declared martial law in 1972 to the end of his rule in 1986.
The compensation will come from about US$600 million the government has recovered from Swiss bank accounts that Marcos secretly maintained while he was in power.
The government has accused Marcos and his relatives of plundering up to US$10 billion and has so far recovered about US$4 billion.
After millions of people took to the streets in a military-backed protest, US-supported Marcos fled to Hawaii where he died in 1989.
After returning from exile his relatives have made a remarkable political comeback, while always denying any wrongdoing by the family. Marcos' famously extravagant wife Imelda is now an 83-year-old congresswoman representing the family's political stronghold in a northern province.
AMBITIONS
Marcos' son and namesake, Ferdinand Marcos Jnr, is a senator with public ambitions to become president.
He posted a long statement on his official Facebook page in which he said he had "no problem" with compensating people for rights abuses committed between 1972 and 1986.
However, Marcos said the issue of compensating the "tens of thousands" of human rights victims in the post-Marcos era had been ignored.
"That question is like an elephant in the room that some politicians, the typically glib, sanctimonious and self-righteous, pretend not to see," he wrote, while insisting he was focused on ways to "unify our country."
Comments will be moderated. Keep comments relevant to the article. Remarks containing abusive and obscene language, personal attacks of any kind or promotion will be removed and the user banned. Final decision will be at the discretion of the Taipei Times.