Syrian interim government plans halted
OPPOSITION FORCES: A five-member panel has been formed to talk to the rebel army and evaluate local and foreign support for a provisional regime
The Syrian opposition yesterday said it had postponed a decision on forming a government-in-exile at its meeting in Istanbul, saying it needed guarantees of support from dissident forces on the ground.
The Syrian National Council (SNC), a key component of the opposition, said the meeting held on Sunday formed a five-member panel to consult with the rebel Free Syrian Army and other concerned parties on the issue.
"After studying the proposals and after deliberation on the question of creating an interim government, we decided to set up a five-member committee tasked with consulting with the forces of the revolution, the Free Syrian Army and friendly countries," the council said.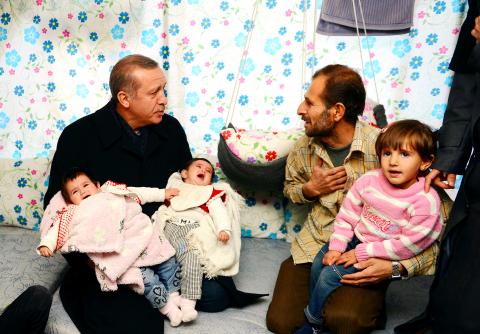 A handout picture released on Sunday by the Turkish prime minister's press office shows Turkish Prime Minister Tayyip Erdogan, left, on Sunday meeting a Syrian refugee family in their tent in a refugee camp, near the town of Nizip in southern Gaziantep Province, Turkey.
Photo: AFP
The Syrian National Council is an influential member of the National Coalition, which was set up in Doha in November in a bid to unify opposition forces fighting Syrian President Bashar al-Assad's regime.
Since it was formed, the National Coalition has been recognized by scores of states and organizations as the sole legitimate representative of the Syrian people.
POLITICAL RIFT
Syria's 22-month revolt has been racked by political schisms and unmet promises of financial and military aid by the international community, dissidents say.
The opposition said the five-member committee would also be tasked with exploring "the extent of [opposition and international] commitment in order for the work to be financially and politically feasible."
The panel includes, among others, National Coalition chief Moaz al-Khatib, Syrian National Council head George Sabra and prominent Paris-based dissident Burhan Ghalioun.
The opposition is due to meet again on Monday next week in Paris, along with representatives of about 20 countries that back the revolt against al-Assad.
In other news, the government says a power outage hit Damascus and its suburbs overnight, and blamed the blackout on a rebel attack on the main power line feeding the capital.
LIMITED POWER
Residents say electricity in the capital went out late on Sunday and returned to limited areas early yesterday, leaving the city dark overnight.
The state news agency quoted Syrian Electricity Minister Imad Khamis as saying that the outages were caused by "an armed terrorist attack on the main feed line." Khamis said authorities were working to restore power.
Additional reporting by AP
Comments will be moderated. Keep comments relevant to the article. Remarks containing abusive and obscene language, personal attacks of any kind or promotion will be removed and the user banned. Final decision will be at the discretion of the Taipei Times.