Pakistani rally demanding government quit continues
PEOPLE POWER: Followers of a Pakistani-Canadian cleric continued protesting against the government for a third day, in the largest rally yet against Ashraf's administration
Pakistani protesters rallied for a third day yestreday in the largest political demonstration seen for years in the capital, calling on the government to quit after the Pakistani Supreme Court ordered the arrest of the prime minister.
Tens of thousands of followers of Pakistani-Canadian cleric Muhammad Tahir-ul-Qadri amassed near the parliament house, where they dug in for a long haul.
A general election is due to be held by mid-May, but Qadri wants parliament dissolved immediately and a caretaker government set up in consultation with the military and the judiciary to implement key reforms before the polls are held.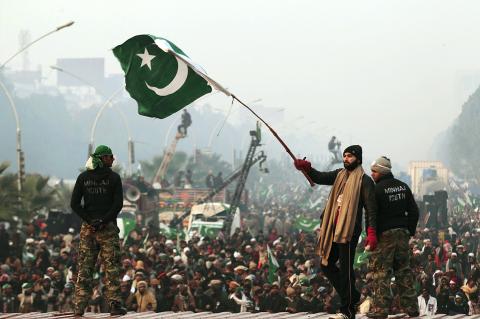 A supporter of cleric Muhammad Tahir-ul-Qadri waves a Pakistani flag during the third day of anti-government protests in Islamabad, Pakistan.
Photo: Reuters
As Qadri delivered a fiery speech to his supporters on Tuesday, berating "corrupt and incompetent" politicians for the country's woes, the Supreme Court issued an order to arrest Pakistani Prime Minister Raja Pervez Ashraf and 16 others over graft allegations in power generation projects in 2010.
The ruling stoked an already febrile political atmosphere and while analysts said it was unlikely to force Ashraf out of office, they warned the timing would fuel rumors about a judicial-military conspiracy.
Qadri's sudden — and apparently well-financed — emergence as a political force is seen by critics as a ploy by elements of the establishment, particularly the armed forces, to delay the elections.
Nuclear-armed Pakistan, struggling with a weak economy and bloody Islamist insurgency, has seen three military coups during its 65-year history.
Security officials estimated the size of the Islamabad crowd at between 25,000 and 50,000, which would make it the largest political protest in the capital since the government led by the Pakistan People's Party was elected in 2008.
Meanwhile, another protest broke out yesterday in the northwest of the country as hundreds of villagers rallied against the killing of 18 of their relatives in an overnight raid that they blamed on security forces, displaying the bodies of the victims in the provincial capital.
About 3,000 people gathered at the governor's house in Peshawar.
They said that gunmen wearing military uniforms stormed homes in the area on Tuesday night and shot villagers dead.
They blamed Pakistani security forces in the area for the killings, but an official with the Pakistani Frontier Constabulary, a paramilitary organization operating in the area, said the villagers had been killed by militants.
The incident happened in an area of Khyber Agency where Pakistani forces have been battling militants.
Comments will be moderated. Keep comments relevant to the article. Remarks containing abusive and obscene language, personal attacks of any kind or promotion will be removed and the user banned. Final decision will be at the discretion of the Taipei Times.