Fire threatens leading telescope site
Australia's top research observatory, home to several telescopes used by scientists from around the world, was under threat from wildfires yesterday as hot weather and lightning storms stoked scores of new blazes.
The Rural Fire Service (RFS) of New South Wales, Australia's most populous state, issued an emergency warning for an out-of-control fire raging towards the Siding Spring Observatory, a remote global research facility.
"About a dozen isolated properties at Mount Woorut, including Siding Spring Observatory, may come under threat," the RFS said. "Police are evacuating the area. Firefighters and waterbombing aircraft are on scene."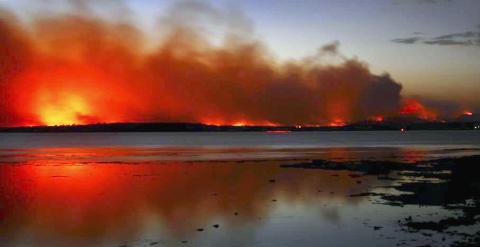 Fires burn yesterday near Sussex Inlet, about 150km south of Sydney, Australia.
Photo: Reuters
Siding Spring, a mountain-top site in the Warrumbungle ranges about 500km northwest of Sydney, houses 10 operating telescopes run by Australian, Polish, British, South Korean and US researchers.
Administered by the Australian National University's research school of astronomy and astrophysics, Siding Spring is the nation's major optical and infrared observatory and one of the top facilities of its kind in the world.
A partner observatory at Canberra's Mount Stromlo was destroyed by wildfires in January 2003 that killed four people and razed more than 500 homes.
Five telescopes, residences and more than a dozen buildings were ruined in the Mount Stromlo inferno, forcing the termination of a number of major projects, including a digital survey of the southern hemisphere's skies.
Large parts of Australia have sweltered under extreme heat in the past week, sparking hundreds of wildfires that have destroyed more than 100 homes.
In the northern state of Queensland train services were halted yesterday due to fears that tracks would buckle under scorching heat that has seen bitumen road surfaces melt in some towns.
The RFS said lightning storms started about 40 new fires overnight in northern New South Wales, fanned by strong winds, though most were in remote areas and not a threat to properties.
Wildfires are a common threat in arid Australia, particularly in the hotter months between December and February, and the government's Climate Commission has warned that global warming will increase the fire risk. About 173 people were killed and more than 2,000 homes destroyed during the so-called Black Saturday firestorm in 2009, Australia's worst natural disaster of modern times.
Comments will be moderated. Keep comments relevant to the article. Remarks containing abusive and obscene language, personal attacks of any kind or promotion will be removed and the user banned. Final decision will be at the discretion of the Taipei Times.