Italy's outgoing PM Monti unveils election alliance
ALL OR NOTHING: Monti, whose alliance is polling at only about 12 percent, said that he would be unlikely to accept a ministerial post in someone else's Cabinet
Outgoing Italian Prime Minister Mario Monti on Friday unveiled the alliance he is to lead into next month's parliamentary election and said he was unlikely to agree to serve as a minister in another prime minister's Cabinet after the vote.
The 69-year-old former European commissioner, who replaced Silvio Berlusconi as prime minister in November 2011, when Italy was scrambling to avert a financial crisis, announced last week that he would run for a second term. Monti said on Friday the grouping would be called "With Monti for Italy," whose logo is a circular symbol with the colors of the Italian flag and his surname in the center.
"I hope that [the new alliance] helps improve politics and that it renews the interest of those Italians who had turned their back on politics, involving them actively again in public affairs," Monti said.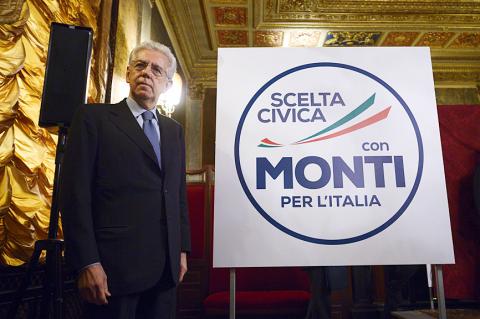 Outgoing Italian Prime Minister Mario Monti presents the symbol of his political list for the election of the Deputy Chambers in Rome, Italy, on Friday. The placard reads: "Civic choice. With Monti for Italy."
Photo: EPA
Opinion surveys have shown that up to 50 percent of the electorate plan to abstain or are undecided in the Feb. 24-25 election that is a three-way battle between conservative Berlusconi, Monti and center-left frontrunner Pier Luigi Bersani.
Focusing the campaign strongly around Monti could be a risky tactic, with his popularity dented by the tough tax hikes and spending cuts he has introduced over the past 13 months. About 60 percent of Italians are against the idea of him standing for a second term, polls show.
A poll by the Tecne research institute released on SkyTG24 on Friday showed that Monti's grouping would likely attract slightly more than 12 percent of the vote.
That compares with 40 percent for his rivals on the left, Bersani's Democratic Party (PD) and its coalition ally, Left, Ecology, Freedom; and 25 percent for the most likely center-right coalition of Berlusconi's People of Freedom (PDL) and the Northern League, the poll showed.
Monti, who wants to form a broad coalition of pro-Europe, pro-reform parties after the election, said on Friday that his goal was to continue as prime minister and he was unlikely to accept a job in someone else's Cabinet.
When asked if he would consider being, for example, the economy minister under another prime minister, he told La 7 TV channel: "I believe not."
"I do not think I would have the motivation to commit myself to serve a government that did not agree with me on at least 98 percent of policy," he said.
He told La 7 he would be open to a three-way TV debate with Berlusconi and Bersani.
Monti plans to lead a single alliance in the upper house, while three separate blocs would run as a coalition with the economics professor as their leader in the lower house.
One will be a list of candidates who have not before participated in politics, to be called "A Civic Choice: With Monti for Italy."
The other two will be already existing centrist parties, the Catholic UDC led by Pier Ferdinando Casini, and the FLI led by Italian Chamber of Deputies President Gianfranco Fini.
The different groupings in the two houses would maximize the alliance's political power while preserving the separate identities of the centrist parties that are backing Monti.
Monti said the names of parliamentary candidates running for his alliance were due to be unveiled by Tuesday.
He added that candidates would be closely scrutinized to rule out any conflicts of interest or ties to organized crime.
Comments will be moderated. Keep comments relevant to the article. Remarks containing abusive and obscene language, personal attacks of any kind or promotion will be removed and the user banned. Final decision will be at the discretion of the Taipei Times.