Three arrested over Bangladesh factory fire as protests rage
Bangladeshi police fired rubber bullets to disperse thousands of workers who protested for a third day yesterday over the nation's worst-ever factory blaze, which prompted the arrest of three plant managers.
At least 5,000 workers left their factories and joined the protests, throwing stones and streaming through the main streets of the Ashulia industrial area, just outside of Dhaka and home to 500 manufacturing outlets, police said.
"They were demanding justice for the fire victims and arrest of the [plant] owner," police official Faruq Ahmed told reporters, referring to a weekend blaze at the Tazreen garment factory that left 110 people dead and more than 100 injured.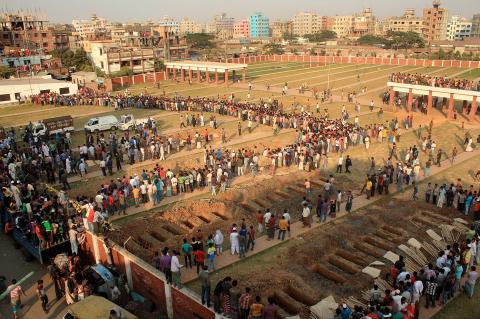 People on Tuesday gather at the graveyard where the bodies of some of the victims of a deadly fire in a garment factory are due to be buried in Dhaka, Bangladesh.
Photo: AFP
Industrial Police deputy director Moktar Hossain said police fired rubber bullets, tear gas and jets of hot water from a water cannon to break up the crowd.
The online edition of the mass-circulated Daily Star said workers also vandalized factories and torched motorcycles, injuring at least 20 people.
More than 100 factories at Ashulia, where the Tazreen plant is located, declared an impromptu holiday for the day, fearing the protests could grow into large-scale industrial unrest.
Police arrested an administrative officer, the store in-charge and a security supervisor of the factory, following charges that they told panicked workers they had nothing to worry about when the fire started.
"All three are mid-level managers of Tazreen. Survivors told us they did not allow the workers to escape the fire, saying it was a routine fire drill," Dhaka police chief Habibur Rahman told reporters.
"There are also allegations that they even padlocked doors," he added.
Two government inquiries have already been set up to establish the cause of the worst factory fire to hit Bangladesh's garment industry, which employs 3 million and is the mainstay of the economy.
Rahman said police also questioned Tazreen's owner, Delwar Hossain, about alleged building rules violations after inspectors found the nine-story factory only had permission for three floors.
The burning factory supplied clothes to a variety of international brands, including US retail giant Wal-Mart.
A reporter searching the factory yesterday found clothing from hip-hop star Sean Combs' ENYCE label, French company Teddy Smith and entries in account books indicating that the factory took orders to produce clothes for Disney and Sears.
Garments and documents left behind in the factory show it was used by a host of major US and European retailers, though at least one of them — Wal-Mart — had been aware of safety problems. Wal-Mart blames a supplier for using Tazreen Fashions without its knowledge.
Wal-Mart said it received an audit deeming the factory "high risk" last year and had decided to stop doing business with Tazreen, but that a supplier subcontracted work to the factory anyway. Wal-Mart said it stopped working with that supplier on Monday.
Calls made to The Walt Disney Co and to Sears Holdings were not immediately returned.
Comments will be moderated. Keep comments relevant to the article. Remarks containing abusive and obscene language, personal attacks of any kind or promotion will be removed and the user banned. Final decision will be at the discretion of the Taipei Times.