CCP rag prints sexy Kim Jong-un spoof
The Chinese Communist Party's (CCP) official mouthpiece yesterday deleted a story that North Korean leader Kim Jong-un had been named this year's "Sexiest Man Alive," after it fell for a spoof by US Web site The Onion.
The People's Daily had run the US satirical site's gushing quotes about the "Pyongyang-bred heartthrob" in both Chinese and English on its Web site, along with a 55-image gallery opening with Kim astride a horse, gazing into the distance.
After gleeful Internet users pointed out the error, the English version's Web address returned a "page not found" message late yesterday morning.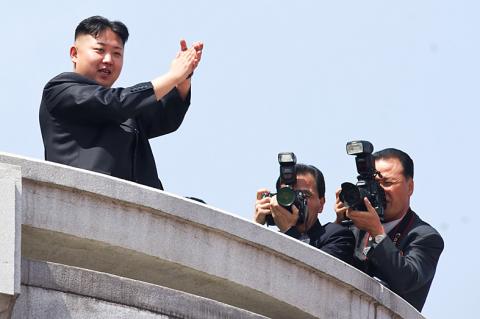 North Korean leader Kim Jong-un claps during a miltary parade in Pyongyang, North Korea, on April 15.
Photo: AFP
The printed edition of the People's Daily did not carry the online report, which quoted The Onion as saying: "With his devastatingly handsome, round face, his boyish charm and his strong, sturdy frame, this Pyongyang-bred heartthrob is every woman's dream come true."
"Blessed with an air of power that masks an unmistakable cute, cuddly side, Kim made this newspaper's editorial board swoon with his impeccable fashion sense, chic short hairstyle and, of course, that famous smile," it said.
The People's Daily article was in line with a series of reports carried by state media of Beijing's allies.
During the CCP's 18th Party Congress this month, Xinhua news agency printed a stream of stories quoting "world leaders" praising the meeting.
Many congratulations were from politicians in countries such as Samoa, Guyana and Montenegro. Obscure groups such as the "Fund of Peace of Republic of Kazakhstan" were also quoted as following Chinese Vice President Xi Jinping's (習近平) elevation to the party's general-secretary.
The People's Daily also ran a series of articles citing foreigners lauding the party's showcase event, including one headlined: "Reporters highly praise Press Center of the 18th National Congress."
The newspaper's Web site has previously published other picture slideshows of Kim, usually depicting the North Korean leader in a heroic pose, on horses or with army generals.
China is North Korea's sole major ally and provides the bulk of its food and fuel imports.
Comments will be moderated. Keep comments relevant to the article. Remarks containing abusive and obscene language, personal attacks of any kind or promotion will be removed and the user banned. Final decision will be at the discretion of the Taipei Times.