Obama, Romney wage duel in Ohio
CONVINCING: While Romney focused his energy on rallying support in Ohio, Obama became the first sitting president to cast an early vote to attract media coverage
In a spectacular finale to a 40-hour campaign sprint, US President Barack Obama launched a searing attack on Republican candidate Mitt Romney in Ohio, the state that may decide their election duel.
However, Romney, rallying Republicans in the state's aptly named town of Defiance, mocked Obama's "incredibly shrinking" campaign and stole the president's 2008 mantra, promising "big change" if he wins on Nov. 6.
The latest sharp exchanges came as polls showed the White House up for grabs, with Romney ahead by a nose nationally, but Obama standing firm in the key swing states that could hand him a second four-year term.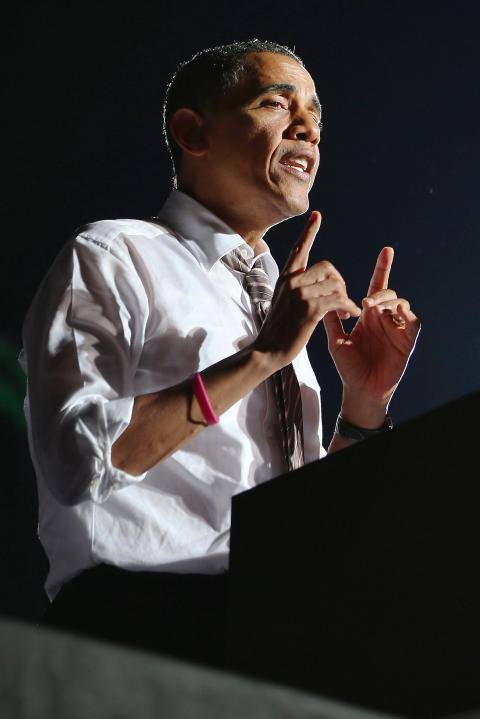 US President Barack Obama addresses a rally at the Cleveland Burke Lakefront Airport in Cleveland, Ohio, on Thursday.
Photo: AFP
On Thursday, Obama lambasted Romney for opposing his bailout of the auto industry as he campaigned in Ohio, a perennial battleground in which car manufacturing supports one in eight jobs.
"I refused to walk away from those workers, I refused to walk away from those jobs. I bet on American workers. I would do it again because that bet always pays off," Obama roared, in a populist pitch for blue-collar votes.
Obama ended an eight-state tour with 11 days to go before he asks Americans to defy the omens of a weak economy and high unemployment by voting to renew his lease on the White House.
The president's aides are privately signaling increasing confidence that he will prevail.
However, Romney has sought to convince his supporters that he has the momentum in the final stretch.
"We want change. We want big change. We're ready," Romney told a 12,000 strong crowd in Defiance, accusing the incumbent Democrat of waging a nasty, negative, diminished campaign drained of new ideas.
Earlier, Obama became the first sitting president to cast an early vote, in a successful grab for news coverage also designed to mobilize his supporters to register their ballots early.
In a slightly incongruous scene, Obama, possibly the most famous man in the world, returned to a neighborhood near his vacant Chicago home in a presidential motorcade and presented his ID for scrutiny.
Then he stood behind a touch-screen machine to cast his vote, in a move designed to convince supporters to also go to the polls early.
Hours later, in a striking example of the theatrical power possessed by an incumbent president running for re-election, Obama landed before 12,000 people who had waited for hours at a lakefront airport in Cleveland.
The converted Boeing 757 serving as Air Force One, the codename given to any aircraft carrying the US president, pirouetted on its nose wheel in front of the cheering crowd before Obama bounded down the steps and onto a stage.
The closer the election gets, the more the bad feeling between Romney and Obama seems to show.
In a Rolling Stone interview published on Thursday, Obama told the magazine's executive editor Eric Bates that children had excellent political instincts and could spot a "bullshitter."
The comment was widely viewed as a jab at Romney, who Obama has accused of lacking principle and shifting positions for political gain.
Obama's team says he still has multiple routes to the 270 electoral votes needed to win the White House.
In two days, he toured battlegrounds Iowa, Colorado, Nevada, Florida, Virginia and Ohio, stopped in California to appear on a late night talk show and made it home to Chicago.
Romney has also done his share of map hopping, but on Thursday he focused squarely on Ohio, where the latest average of polls by the RealClearPolitics Web site had Obama up by two points.
NBC/Wall Street Journal polls on Thursday showed Obama up three points on Romney in Nevada, where he also leads early voting, and tied with Romney in the Rocky Mountain battleground of Colorado.
However, Romney was up three points in an ABC News/Washington Post poll of likely voters.
Comments will be moderated. Keep comments relevant to the article. Remarks containing abusive and obscene language, personal attacks of any kind or promotion will be removed and the user banned. Final decision will be at the discretion of the Taipei Times.