Malala can make smooth recovery, UK doctors say
Malala Yousufzai, the teenage girl flown to Britain for treatment after being shot in the head by Taliban gunmen in Pakistan, has the potential to make "pretty much a full recovery," her doctors have said.
She is able to stand with help and is writing notes, and although the bullet grazed her brain she has not shown "any deficit in terms of function," doctors at Queen Elizabeth Hospital in Birmingham said.
She was "not out of the woods, but is doing very well," said Dave Rosser, medical director of the University Hospitals Birmingham NHS (National Health Service) Foundation Trust.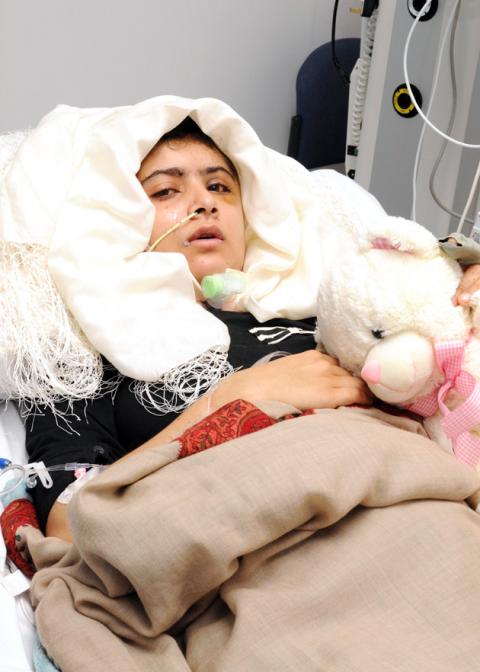 An undated handout photo provided by the University Hospitals Birmingham NHS Foundation Trust on Friday shows 15-year-old Pakistani shooting victim Malala Yousufzai, who is recovering in Queen Elizabeth Hospital in Birmingham, England.
Photo: EPA
Malala, whose age was given as 15 by the hospital, and not 14 as previously reported, was shot 10 days ago on her school bus after promoting the education of girls and criticizing Taliban militants.
Initially treated by neurosurgeons at a Pakistani military hospital before being flown to the UK on Monday, she awoke from a medically induced coma on Tuesday afternoon and reportedly asked: "Which country am I in?"
The bullet, fired at point-blank range, struck just above the back of the left eye, went down through the side of her jaw, damaging the skull and the jaw joint on the left side, went through the neck and lodged in the tissues above the shoulder blade. Shock waves from the bullet shattered the thinnest bone of the skull and fragments were driven into the brain.
"The bullet grazed the edge of her brain," Rosser said. "Certainly if you're talking a couple of inches more central, then it's almost certainly an unsurvivable injury."
Doctors say she has memory, but they have not talked to her about the shooting.
"From a lot of work we have done with our military casualties we know that reminding people of traumatic events at this stage increases the potential for psychological problems later, so we wouldn't do that," Rosser said.
He said Malala was aware of her surroundings, and though she could not talk because she had a tracheotomy tube, she had given permission for medical details to be revealed, and wanted to thank everyone for their support.
She was still showing some signs of infection, related to the bullet track, but "she was standing with some help for the first time this morning. She is communicating very freely. She is writing. She has a tracheotomy tube because her airway was swollen by the passing of the bullet, so she is not able to talk, though we have no reason to believe she won't be able to talk once this tube is out, which may be in the next few days," Rosser said.
The specialist doctors, who have expertise in treating soldiers with gunshot injuries flown back from Afghanistan, said it was a "fluid situation" and Malala had suffered "a very, very grave injury."
She will need a couple of weeks to rehabilitate before her skull will need to be reconstructed and work may be carried out on her jaw.
Rosser said the hospital was trying to arrange for Malala to listen to her father, who remains in Pakistan, on the phone, though she would not be able to speak to him because of the tube. Hospital staff were communicating with her in Urdu, though it was clear she understood English.
Comments will be moderated. Keep comments relevant to the article. Remarks containing abusive and obscene language, personal attacks of any kind or promotion will be removed and the user banned. Final decision will be at the discretion of the Taipei Times.