Italy's Monti under fire over budget
'NOT TOLERABLE': The prime minister is under attack from the parties in his coalition, which are demanding the elimination of a planned increase in the value-added tax
The parties that support Italian Prime Minister Mario Monti's unelected government demanded changes to his budget on Saturday, saying it would hurt households already suffering from austerity measures.
Although proposals announced on Wednesday included a tax cut for low earners, they also included a rise in value added tax and limits on other tax breaks as Monti tries to bring public finances under control to avoid a Greek-style debt crisis.
Whether the measures in the budget for next year to 2015 would mean more belt-tightening overall is unclear. However, with parties gearing up for a parliamentary election in six months, they did not hold back in criticizing the plans.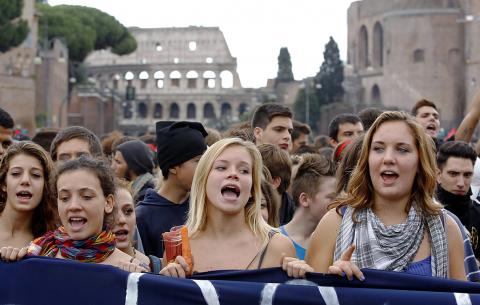 Thousands of students march past the Colosseum to protest against Italian Prime Minister Mario Monti's austerity measures in Rome on Friday.
Photo: Reuters
"There are many things that must be changed," People of Liberty party secretary Angelino Alfano told a conference in Tuscany. "First and foremost, the value-added tax [VAT] increase must be eliminated. It's not tolerable that a VAT hike gobbles up the small benefit of the income tax cut."
The other two main parties supporting Monti also called for changes. There was no sign they would withdraw their support for Monti, but any changes to appease them would make it harder to meet Monti's target for cutting the deficit.
Democratic Party economic adviser Stefano Fassina said further spending cuts to schools and healthcare are not acceptable and that the budget needs "significant changes."
The Union of the Center party, led by Pier Ferdinando Casini, criticized the retroactive elimination of income tax breaks.
A draft of the spending bill says the new rules will be applied to this year's taxes, which are paid next year. The budget still has to be presented to the Italian parliament.
Monti, who took power in November last year with a pledge to avert a catastrophic debt crisis, has not ruled out changes to the spending law in parliament, but has repeatedly said the public account targets are sacrosanct.
The 1 percentage point VAT increase will bring in more than 3 billion euros (US$3.8 billion) next year and more than 6.5 billion euros in 2014, according to a budget draft, which will not be sent in its final form to parliament until later this week.
Meanwhile, the income tax cuts of 1 percentage point for the two lowest tax brackets would cut revenue by 5.5 billion euros, Italian Minister of the Economy Vittorio Grilli said on Friday.
However, opponents of the measures say the impact of the value-added tax increase and limit on tax breaks would be greater than the income tax cut.
"In reality, there is a tax increase even with a 1 point cut to income taxes," said Susanna Camusso, head of Italy's largest union, the CGIL, which threatened to call a general strike after the budget was presented on Wednesday.
Austerity measures imposed by Monti to try to bring public finances under control have exacerbated a year-long recession in the eurozone's third-biggest economy and have been a focus of criticism from all political factions.
Monti, who took over from former Italian prime minister Silvio Berlusconi amid a dire financial crisis, has ruled out running in next year's election, but has said he would be available to serve again if Italy's fractious political parties are unable to form a government.
The government forecasts Italy's economy will contract by 2.4 percent this year and 0.2 percent next year, and the public deficit is expected to hit 2.6 percent of GDP before narrowing to 1.8 percent next year.
A Reuters poll of more than 20 economists this week forecast a contraction of 0.7 percent next year, a deeper recession than the Italian government expects.
Comments will be moderated. Keep comments relevant to the article. Remarks containing abusive and obscene language, personal attacks of any kind or promotion will be removed and the user banned. Final decision will be at the discretion of the Taipei Times.