Shanghai seeks premier art status with new museums
Shanghai yesterday opened two new art museums on the former site of the 2010 World Expo, as China's commercial hub seeks to rival art capitals like New York and Paris.
The China Art Museum, intended to be Shanghai's premier showplace for modern art, threw open its doors in the former China pavilion, which was the signature building for the world's fair.
"The scale and configuration is matchless in Asia. It is close to America's Metropolitan Museum of Art, France's Musee d'Orsay and other internationally famous art museums," Shanghai Municipal Administration of Cultural, Radio, Film and Television Director Hu Jinjun (胡勁軍) said before the opening.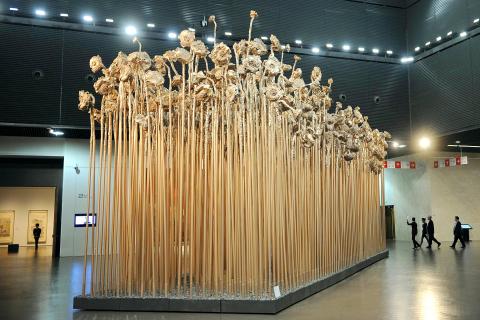 People attend a preview visit on Friday to the China Art Museum in Shanghai, which opened to the public yesterday.
Phtto: AFP
The government-backed museum has an exhibition space alone of 64,000m2, Hu told state media.
A new contemporary art museum also welcomed holiday crowds yesterday to exhibit works from the 1980s onwards and give a permanent home to Shanghai's annual art festival.
Called the "Power Station of Art," the 40,000m2 museum takes its name from the former power station building that was converted for the Expo.
Critics have raised questions over how Shanghai will fill the massive spaces with meaningful exhibitions.
"They're basically modeling themselves on New York or London," said Chris Gill, a Shanghai-based artist and arts writer.
"China tends to build these huge art museums. The problem is what they're going to put in it. The content side is always compromised by the political situation," he said.
China censors art that it considers politically sensitive or pornographic, with local officials having the right to pull individual works or shut down shows.
Shanghai officials last month barred display of a photographic work by artist Chi Peng (遲鵬), which shows a gorilla at Beijing's famed Tiananmen Square, according to his microblog.
In 2006, Shanghai shut down an exhibition by dozens of Chinese artists at a private art museum for showing "pornographic" images, described as pictures of naked women.
The exhibitions in place for the opening of the China Art Museum are heavily weighted toward Chinese art, but one floor has foreign works including a painting by Rembrandt and another by Johannes Vermeer — on loan from the Netherlands' Rijksmuseum.
Shanghai university student Wang Qingyong marveled at the size of the new museum.
"There is a lot of space. More works will come," she said gazing at a painting by the US artist Robert Bechtle.
Shanghai has already tested the China Pavilion as a venue for art, spending US$1.4 million for China's biggest-ever exhibition of the works of Spanish artist Pablo Picasso last year, but attendance was lower than expected.
The city has high hopes for attendance, distributing free tickets for 10,000 people a day to the China Art Museum and 6,000 daily for the Power Station of Art over the week-long National Day holiday, which started yesterday.
Comments will be moderated. Keep comments relevant to the article. Remarks containing abusive and obscene language, personal attacks of any kind or promotion will be removed and the user banned. Final decision will be at the discretion of the Taipei Times.