Blow to Gulf cartel ratchets up violence in Mexico drug war as 16 bodies found
A total of 16 dead bodies were found on Friday in northern Mexico as a war between drug cartels over lucrative delivery routes to the US continued to take its toll. Nine of the dead were found hanging from a bridge in the northern border city of Nuevo Laredo, a killing spree authorities blamed on drug gang violence.
A Mexican drug cartel claimed responsibility for the murders, a state government official told reporters on condition of anonymity. He did not say which cartel.
About 40 percent of Mexican exports sent by land to the US cross through Nuevo Laredo, making it a choice site for drug smugglers.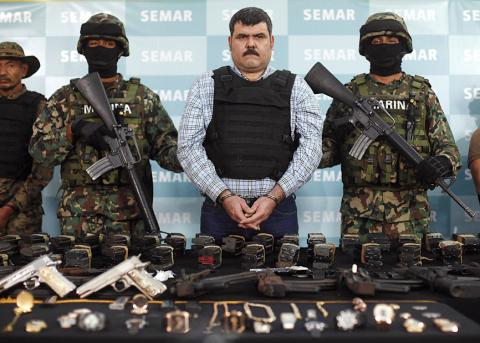 Mexican marines escort Gulf cartel head Jorge Eduardo "El Coss" Costilla Sanchez as he is presented to the media in Mexico City on Thursday.
Photo: Reuters
"The nine bodies were hanging from a bridge on Colosio Boulevard," over the express lane leading to the highway that links Nuevo Laredo to Monterrey, Mexico's third-largest city, the official said.
He said the victims were likely kidnapped from a bar hours earlier.
One of the victims was a "young man, 16 years old" and all the bodies showed evidence of "bullet wounds to the head," the Tamaulipas state prosecutor's office said in a statement.
The office later revealed that seven more bodies of men aged between 50 and 65 had been found on a road near the town of San Fernando. All of them had tied hands and gunshot wounds, a sign of execution-style killings. The gruesome find was made no far from the site where 72 dead immigrants, allegedly executed by the Zetas drug cartel, were found in 2010.
The chilling display followed Wednesday's arrest of Jorge Eduardo Costilla Sanchez, a senior leader of the Gulf cartel. Earlier this month, authorities arrested Mario Cardenas Guillen, another Gulf cartel leader.
The Gulf cartel and its former allies, the paramilitary Zetas, have been fighting to control the Nuevo Laredo smuggling routes for at least two years. A third gang, the Sinaloa Federation, has also sought to control the routes.
Analysts have predicted a rise in violence as rival gangs try to capitalize on the blows to the Gulf cartel.
In May, nine bodies, including four women, were found hanging from a Nuevo Laredo bridge. The bodies were discovered hours after 14 decapitated bodies were found near the mayor's office.
Authorities attributed the killings to drug gang warfare.
Approximately 60,000 people have been killed in drug-related violence since 2006, when Mexican President Felipe Calderon deployed Mexico's military to fight the gangs.
Comments will be moderated. Keep comments relevant to the article. Remarks containing abusive and obscene language, personal attacks of any kind or promotion will be removed and the user banned. Final decision will be at the discretion of the Taipei Times.