Flow of refugees from Syria surges
The number of refugees fleeing civil war in Syria has surged to more than 200,000, the UN said on Friday, as fighter jets and tanks reportedly unleashed deadly new raids in hotspots across the country.
The UN refugee agency said the flow of refugees fleeing the fighting had jumped, with 202,500 people registering in neighboring countries.
"A record 2,324 Syrian refugees crossed into Jordan on Thursday night," Jordanian Information Minister Samih Maaytah said in Amman.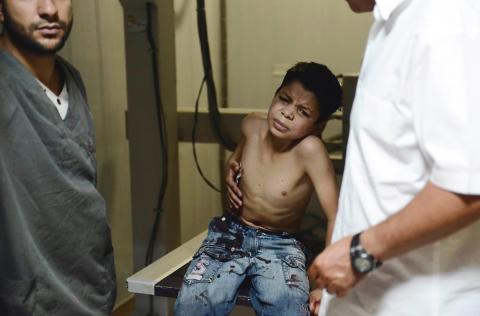 A Syrian boy receives treatment after he was wounded during an airstrike on Friday by a regime forces helicopter in the northern city of Aleppo, Syria.
Photo: AFP
Meanwhile, the head of the now-defunct UN observer team in Syria, General Babacar Gaye, left Damascus yesterday after the UN Security Council called time on the troubled mission, his aides said.
Last week, Gaye accused both the Syrian army and rebel forces of failing to protect civilians as the fighting escalated.
"Both parties have obligations under international humanitarian law to make sure that civilians are protected," he told reporters in Damascus last Saturday.
"These obligations have not been respected," he added.
The new international envoy, Lakhdar Brahimi, held talks with UN leaders, pledging: "We will not spare any effort," but saying he was "scared" about the scale of the task confronting him.
Warplanes and artillery again pounded the northern hub of Aleppo and several other areas, a watchdog said.
The Syrian Observatory for Human Rights said this month is already the deadliest single month of the conflict, with more than 4,000 people killed in barely three weeks, and an overall death toll of about 24,500.
In the day's bloodiest single attack, 21 people including 12 women and a child were killed in an air and artillery strike in Mayadin that leveled at least one residential building, Observatory head Rami Abdel Rahman said.
The Obsercatory also reported heavy shelling on several districts of Aleppo, scene of the fiercest fighting since the conflict first entangled the commercial hub a month ago, as well as Daraa, the northwestern province of Idlib and Hama in the center.
Meanwhile, 50 unidentified bodies were found in the past 24 hours, mainly in Aleppo and Damascus, the Observatory said. Most were found with their hands bound and shot in the head.
The Local Coordination Committees, a local activist network, said prominent Syrian film producer Orwa Nyrabia disappeared and was feared arrested, but its report could not be confirmed independently.
US freelance journalist Austin Tice has also been missing for more than a week, his latest employer the Washington Post said.
Comments will be moderated. Keep comments relevant to the article. Remarks containing abusive and obscene language, personal attacks of any kind or promotion will be removed and the user banned. Final decision will be at the discretion of the Taipei Times.