Wisconsin governor survives recall poll
LABOR BLOW: Scott Walker's victory could strengthen conservative politicians' stand against unions and boost Republican hopes in the presidential election, pundits say
Wisconsin Republican Governor Scott Walker became the first governor in US history to survive a recall election on Tuesday in a decisive victory that dealt a blow to the labor movement and raised Republican hopes of defeating US President Barack Obama in the November election.
Unions and liberal activists forced the recall election over a law curbing collective bargaining powers for public-sector workers passed soon after Walker took office last year.
With 87 percent of the vote counted, Walker led Democratic Milwaukee Mayor Tom Barrett 54 percent to 45 percent, according to unofficial returns.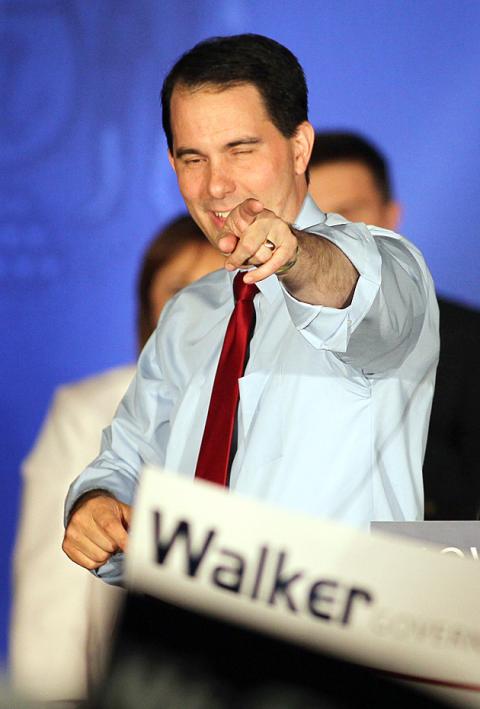 Wisconsin Governor Scott Walker greets supporters at an election-night rally on Tuesday in Waukesha, Wisconsin.
Photo: AFP
Walker, 44, defeated Barrett in the gubernatorial election in 2010 by 6 points. If the 9-point margin holds up, Walker will win by more than he did two years ago despite fierce opposition from Democrats in a state that US President Barack Obama won by 14 percentage points in 2008.
"A win like this shows Wisconsin may be a redder [more Republican] state in 2012 and could be bad news for Obama," said Thad Kousser, an associate politics professor at the University of California San Diego.
"The unions tried to take a stand here and when you stake everything on one election and lose, politicians around the country will not be afraid to take on the unions," Kousser said.
Obama's presumed Republican opponent in November, former Massachusetts governor Mitt Romney, called Walker to congratulate him, an aide to Romney said. Romney had called Walker a "hero" when he visited Wisconsin earlier this year.
Walker struck a conciliatory tone in victory speech, saying he wanted to move forward and try to bring the divided state together.
"Early in 2011, I rushed in to try to fix things before I talked about them. Because you see for years, too many politicians ... talked about things, but never fixed them," Walker said to a crowd of elated supporters.
The election in politically divided Wisconsin has been seen as a barometer of the US political climate going into November's presidential election.
Kent Redfield, a political analyst at the University of Illinois at Springfield, said the outcome could demoralize Democrats and labor unions.
"That could have an affect on turnout in the fall," he said.
Ahead of the recall election, organized labor and conservatives mounted intense get-out-the-vote drives. Grassroots activists in the conservative Tea Party played a major role in those efforts on the right.
"This is a huge win for the Tea Party," said Matt Batzel, Wisconsin state director of national conservative group American Majority Action.
"Time after time they have answered the call to defend Scott Walker," he said of the group that seeks deep cuts in US government spending.
Voter turnout was high in the state where families were at odds and neighbors are not speaking to each over Walker's push to curtail collective bargaining by public-sector workers.
The recall election led to huge campaign spending in the Midwestern Rust Belt state, with some estimates that more than US$60 million was raised. So-called Super PACs, the independent groups that are pouring money into the US presidential campaign, were a major force in Wisconsin.
This was just the third recall election of a governor in US history and it follows weeks of vociferous protests by demonstrators who occupied the state Capitol in Madison as Walker and fellow Republican lawmakers pushed through the union curbs in March last year.
The law forced most state workers, including teachers, to pay more for health insurance and pensions, limited their pay raises, made payment of union dues voluntary and forced unions to be recertified every year.
Democrats and unions gathered nearly 1 million signatures to force the recall election.
They also forced recall elections for Lieutenant Governor Rebecca Kleefisch and four state senators who had voted for the labor union restrictions.
Kleefisch and three of the four senators defeated their Democratic opponents, according to local media, and a fourth Republican state senator had a strong lead. If all of the Republicans win, Walker would have Republican majorities in both chambers of the legislature.
Walker's victory is expected to transform him into a national Republican star. The governor has said he has no interest in being Romney's vice presidential running mate, but political pundits said he could be a future national candidate.
Comments will be moderated. Keep comments relevant to the article. Remarks containing abusive and obscene language, personal attacks of any kind or promotion will be removed and the user banned. Final decision will be at the discretion of the Taipei Times.