Hong Kong culls 17,000 chickens to battle bird flu
Hong Kong culled 17,000 chickens yesterday and suspended live poultry imports for 21 days after three birds tested positive for the H5N1 strain of bird flu virus.
Hong Kong Secretary for Food and Health York Chow (周一嶽) announced the measures late on Tuesday after a dead chicken at the city's main wholesale market and two wild birds tested positive for the virus, which can be fatal to humans.
Authorities raised the bird flu alert level to "serious" and suspended live poultry imports while they trace the origin of the infected chicken, meaning major disruptions to poultry supplies over the busy Christmas period.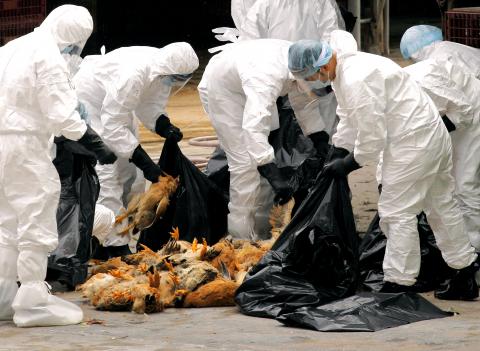 Health workers pack dead chickens at a wholesale poultry market in Hong Kong yesterday. Workers began culling 17,000 chickens after a dead chicken at the market tested positive for the H5N1 avian virus, a government spokesman said.
Photo: Reuters
"It is unfortunate that an avian influenza case is detected before the Winter Solstice, necessitating a halt to the supply of live chickens," Chow said. "I understand that it will cause inconvenience to the public, and the poultry trade will also encounter losses."
All chickens at the Wholesale Poultry Market were slaughtered and extra inspections were ordered at chicken farms and hospitals.
Authorities on Tuesday confirmed that an oriental magpie robin found dead in a secondary school at the weekend had tested positive for H5N1, the second such case in a week.
Another secondary school was ordered to close for a day for disinfection last Friday after a dead black-headed gull was found with the virus.
A school clerk who picked up the bird was taken to hospital with her son, who had developed flu-like symptoms, but both were cleared later.
Comments will be moderated. Keep comments relevant to the article. Remarks containing abusive and obscene language, personal attacks of any kind or promotion will be removed and the user banned. Final decision will be at the discretion of the Taipei Times.