China orders charm offensive for police after unrest
China's security chief has ordered police on a six-month charm offensive to improve relations with the public and deal with their gripes, following a spate of social unrest across the country.
Police should "carry out in-depth investigations" and "enhance people's sense of safety and satisfaction" during the campaign, which was launched by the public security ministry on Friday, Chinese Communist Party (CCP) Central Political and Legislative Committee Secretary Zhou Yongkang (周永康) said in a statement.
"Public security organs at all levels ... should promote ... the spirit of serving the people, justice and honesty, and do the best to safeguard national security, social harmony and stability," said Zhou, who is a member of the Politburo, in the statement published on Saturday.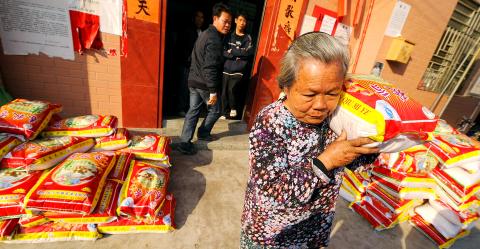 A resident collects a bag of rice from the provisional village commitee yesterday in Wukan, a fishing village in Guangdong Province, China.
Photo: AFP
The announcement highlights the growing concern in the top ranks of the CCP over rising social tensions across China as it prepares for a generational leadership handover next year.
It comes as thousands of villagers in southern China staged a revolt against local CCP officials. The villagers say the officials have been stealing their land for years and are responsible for the death of a community leader.
The 13,000 residents of Wukan in wealthy Guangdong Province have taken to the streets to demand their land back and for officials to return the body of Xue Jinbo (薛錦波), who died in police custody on Dec. 11.
Wukan is located in China's manufacturing heartland, where thousands of factory workers have gone on strike in recent months as slowing export demand forces manufacturers to cut pay.
Last month, more than 7,000 workers went on strike at a Guangdong factory making Western brand shoes, clashing with police in a protest over layoffs and wage cuts.
A mass protest earlier this year in Dalian, Liaoning Province, forced the government to move an unpopular chemical plant — another sign, analysts say, that China's growing middle class is increasingly willing to fight back.
Comments will be moderated. Keep comments relevant to the article. Remarks containing abusive and obscene language, personal attacks of any kind or promotion will be removed and the user banned. Final decision will be at the discretion of the Taipei Times.