Protests force London's St Paul's Cathedral to close
London's landmark St Paul's Cathedral closed its doors on Friday because of hazards posed by hundreds of protesters encamped in front of it in a demonstration inspired by the Occupy Wall Street movement.
Dean Graeme Knowles, a senior cleric, wrote an open letter to protesters asking them to leave the square peacefully, which they have occupied since Saturday last week after initially targeting the nearby London Stock Exchange.
"We have done this with a very heavy heart, but it is simply not possible to fulfill our day to day obligations to worshipers, visitors and pilgrims in current circumstances," Knowles said in a statement.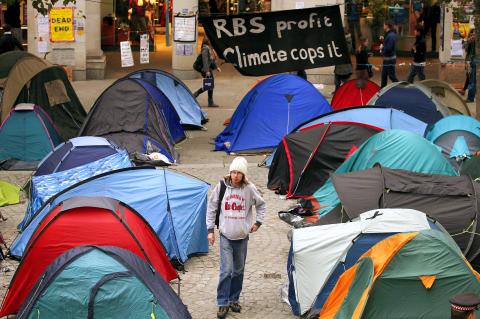 A demonstrator walks through a protest camp outside St Paul's Cathedral in London on Friday.
Photo: Reuters
Fire and health hazards posed by the camp — which has been steadily growing through the week — make it impossible for the cathedral, a popular tourist attraction, to legally remain open, he added.
In response, protesters issued a statement saying they had made every effort to facilitate the cathedral's concerns and asked for clarification on what more they could do.
"We will continue," protester Ronan McNern said. "The fight has got to go on."
Camp organizers called an emergency assembly to discuss the future of the demonstration.
What had started as a few dozen tents soon grew to a self-styled city — with its own university, library, canteen and toilets — governed by a burgeoning bureaucracy.
The colorful camp, on paved stones in front of the sweeping cathedral steps, puzzled tourists visiting the 17th-century landmark, whose dome is a familiar part of the London skyline.
"Church liaison officers" were elected to mediate between the camp and the cathedral, rearranging tents into orderly lines and clearing a path to its fire exit in response to church concerns.
The church's support had been a decisive factor from the start of the protest.
The camp was initially spared from clearance when church authorities told police officers to back off and allowed the protest to remain for its first night.
That decision — and a sympathetic sermon by the Reverend Giles Fraser at services attended by protesters on Saturday last week — raised spirits in the camp, protester Don Court said.
"When we heard that the reverend had given us permission to stay, and indeed that he preferred to have protesters on the steps than the police, it was a huge turning point," he said earlier this week.
However, church officials appeared to grow uneasy about the camp as the week wore on.
In its open letter asking the protesters to decamp, Knowles praised the peaceful nature of the protest.
"Many people around the world, including many Christians, identify with the injustices and inequalities which you believe our financial systems perpetuate and support," the letter read.
Comments will be moderated. Keep comments relevant to the article. Remarks containing abusive and obscene language, personal attacks of any kind or promotion will be removed and the user banned. Final decision will be at the discretion of the Taipei Times.